"There has been nothing but good about our stay in Williston."
Those were the words of Terry Olson, as he closes the books on a career that spanned nearly 40 years involved at Williston State College.
Olson, now 65 years of age, has actually spent 39 years at WSC while wearing several hats along the way.
WSC staff, along with students, former students and student-athletes joined with members of the community during an opportunity to express thanks to a man who has dedicated his life to the betterment of WSC, Williston and the state of North Dakota.
An open house was held on Tuesday, April 20, at the WSC Foundation office.
For Olson, his path to Williston began in 1973, following graduation from Lakota High School.
He opted to first attend Valley City State College and would remain there for two years, while taking part in baseball and basketball.
His next stop was North Dakota State University with the intent to major in agriculture, only to make a switch to the field of education.
That led to an additional year at NDSU, going on to graduate in 1978.
While at NDSU he got his foot into coaching basketball as he worked as a student assistant for one year.
Upon graduation Olson began his teaching and coaching career at Ashby, Minnesota.
Spending two years at Ashby, Olson taught social studies in the classroom, while serving as the head basketball coach and was an assistant coach in football.
GRADUATE SCHOOL
Next stop for Olson was off to graduate school in Wisconsin, attending the University of Wisconsin Whitewater.
Here Olson worked as a grad assistant for the men's basketball program, gaining valuable coaching experience.
Olson earned his Masters degree during the spring of 1981, as he began working his way out west.
That move saw him heading to Harvey where he taught social studies, along with health and physical education for one year.
His added duties included being head basketball coach and assistant football coach once again.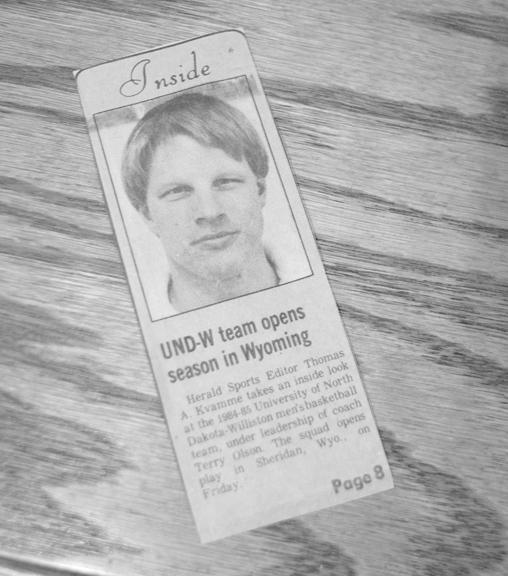 This time period led to the spring of 1982 when Olson applied and was hired as the head men's basketball coach and athletic director at UND-W, along with being an instructor.
Olson began in the fall of 1982 and for 26 years did everything, including his role as bus driver.
His time began at what was known as the University of North Dakota-Williston, only to be changed to Williston State College.
For the past 14 years Olson has served as the Executive Director of the WSC Foundation, replacing the original director Garvin Stevens.
ALL IN FAMILY
For Olson, Williston has been home to his wife Karen and their three children.
Karen has since retired from teaching elementary education for 31 years in the Williston school system.
Oldest daughter Laura attended NDSU and earned her pharmacy degree and is married and resides in Grand Forks.
Jacob is a Concordia College graduate and works as a videographer in Golden Valley, Minnesota where he is employed by Room & Board.
He works in the corporate office of a high end furniture company.
Meanwhile, Katie, who wore the crown as Miss North Dakota 2018 will graduate from NDSU in May.
She is following in her mother's footsteps with a degree in elementary education.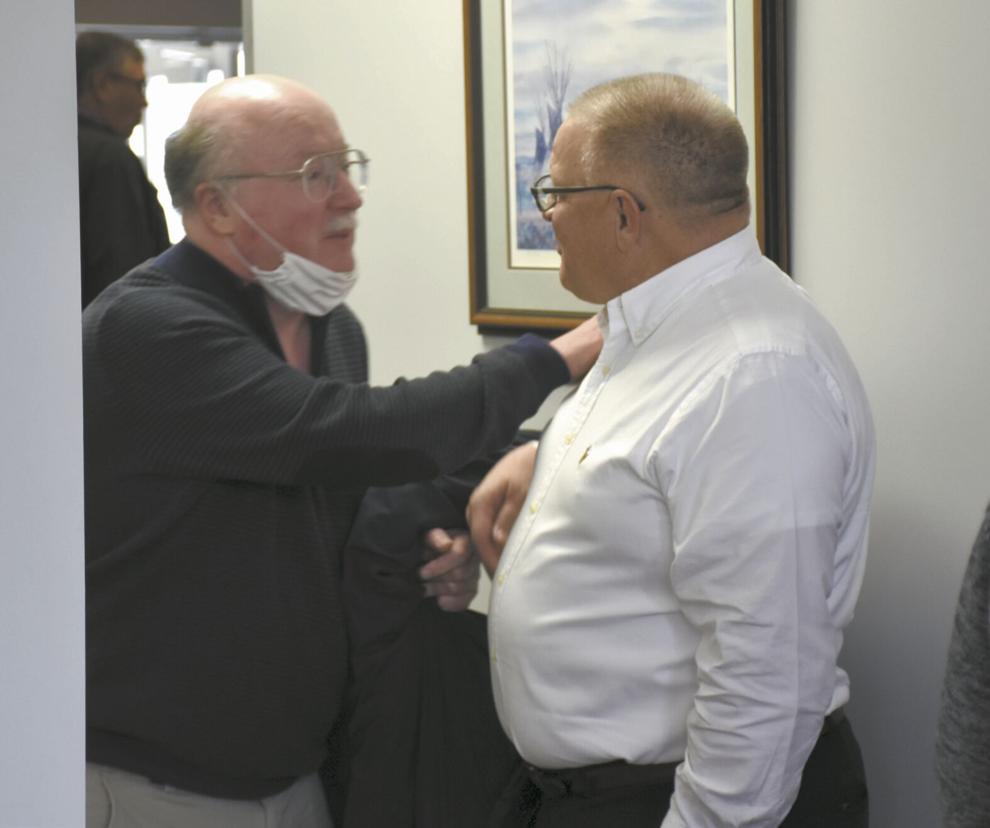 Putting nearly 40 years behind them, Karen and Terry will now be making a move to a lake home in Minnesota.
This also puts them much closer to Terry's homeplace, outside of Lakota, where he will continue to do some hobby farming.
Terry's father Kenneth, 93, worked as a farmer and banker, and now resides in a condo in Lakota.
LOTS OF MEMORIES
Over the course of 40 years Olson estimates he has been involved with hundreds of players and students that number in the thousands.
Having very fond memories of his time in Williston Olson said, "one thing about human nature is most memories are about good things."
No doubt some of those memories were brought to the surface during his farewell open house.
GOOD MENTORS
Olson went on to say, "I have nothing but good to say about our stay in Williston."
He went on to credit "good mentors, with Phil Rabon automatically coming to mind."
Olson praised Rabon further stating, "his influence with students and respect in the community was special."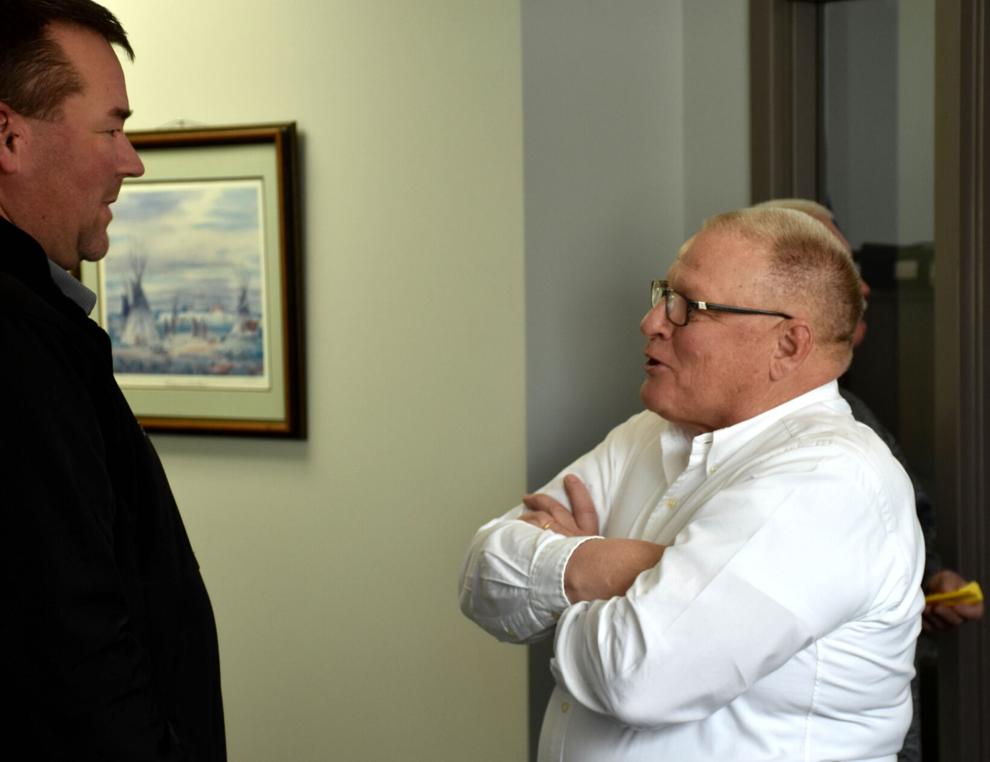 With the Teton Booster Club coming to life in 1993, this effort proved to be most valuable for athletic programs at the school.
Early on basketball games were played at Williston High School, leading to a lot of work for Olson and his team, while not having a true home court.
The facility at UND-W had a very small gymnasium and a tile floor.
Improvements began with new bleachers, the press box, scoreboard and a wooden floor.
Those improvements were the beginning to additional comforts.
GIVES UP WHEEL
Big improvements came for the coaching staffs when the booster club came to life.
This took the coaches from behind the wheel, something they had to do after a long trip, along with having worked a game, making for a long night.
Previously teams were transported by vans and a people mover vehicle.
As support from the booster club continued to grow, a strong gaming division helped with additional funds.
"We had lots of dedicated individuals and still do," said Olson, regarding those working with the booster club.
The continued support led to the construction of a new gymnasium, affectionately referred to as "The Well."
The new facility, located on campus came to be in 2003, according to Olson.
ALONG THE WAY
Olson, along with other coaches worked to provide additional incentive to attend and compete at the college.
In 1987 a Fun in the Sun outing included a trip to Arizona, allowing for some warmth during the winter months and games against some good competition.
Other incentive trips included San Diego, California and Florida, according to Olson.
This trip was coordinated with the women's basketball program, taking a large number of athletes on a road trip.
SOME KEY PLAYERS
Nial Dalton Brown proved to be the first basketball player to go on and play Division I at the University of California Santa Barbara.
Wendel Carter and Marlon Drakes left Williston and began Division I players at the University of Texas.
Olson notes that Fred Fridley and Hunter Berg could have "easily" played at the Division I level, but opted for state colleges at that time.
Fridley, from Watford City, took his game to NDSU while Berg, a native of Zahl and Grenora High School opted for the University of North Dakota.
"We pretty fortunate to have two All-Americans play for us from area schools," said Olson.
TRACK RECORD
Olson is very proud of his track record regarding some of the young men that he recruited and played under his guidance.
He pointed out, "we had a lot of young men going on to become very successful."
Olson credited the college and instruction they received, along with a "credit to family."
One former player is from Divide County High School in Scott Molander who had and still claims tremendous success with his Lids, an athletic hat business.
Now Molander has tossed his hat in the ring and is among five finalists to take on the next role as president of Williston State College.
TETON THUNDER
We had the assignment of covering Teton games for many years, and worked with Olson to get the publication Teton Thunder off the ground.
From its initial start, this effort has grown and continues to this day.
The purpose of the publication is to share and tout the success of former student athletes.
Olson is proud of Brett Vibeto, a player from Minot who is now a surgeon and chief of staff in Crookston, Minnesota.
Vibeto actually practiced as a surgeon back in Williston, before moving on.
Vibeto was part of the National Junior College Academic Team of the Year.
Other members included Dave Leom of Watford City, a long-time math instructor in Milaca, Minnesota.
Additional names include Bill Gathman of Berthold, now working as a state engineer for the highway department in Williston.
Tracy Hjelmstad of Minot works as a podiatrist in Wichita, Kansas, while Fred Fridley of Watford City works for Sanford Health.
IN GOOD HANDS
As of April 30 Olson will be out of the picture at WSC.
Hunter Berg, a former player we referred to earlier, has already been named as the executive director of the WSC Foundation.
Berg was tabbed for that role back in July of 2020, with the board calling for Olson to remain on board as a mentor until the end of April 2021.
"All is well in hand," said Olson, while adding, "he asks questions when he needs to, otherwise running the show."
While he calls Zahl home, Berg played basketball at Grenora where he was named the top player in the state, being tabbed Mr. Basketball in 1995.
"We were fortunate to coach a lot of really good basketball players," said Olson.
PLAYS HOOPS HERE
Olson convinced Berg to attend college in Williston and after two years he finished out at the University of North Dakota.
Berg also returned to his roots and was involved in the banking field with First International Bank.
Berg became involved in coaching basketball at Williston High School and then worked at WSC as coach of both basketball programs, before moving into the role as athletic director.
GOOD MEMORIES
While it's time to move on, Olson and his family will have "lots of good memories."
He concluded by saying, "we were fortunate enough to have more good times."
On a personal note we spent a good spell of time working with Olson over the years and he was always very cooperative.
We seize this opportunity to send out a Scope Salute to Olson for setting a high standard at WSC, something he can be proud of.
At the same time we say happy farming and fishing, and we'll see you down the road.
JACOBSON HONOR
We learned of a major award on the local level that is most worthy.
Jerry Jacobson, who serves as the general manager of Ramada by Wyndham Williston Airport XWA, was tabbed the 2020 General Manager of the Year.
This recent announcement came as part of a national Wyndham teleconference.
The award was announced by Stephanie Kendrick, vice-president, brand operations Ramada at Wyndham hotels and resorts.
Wyndham hotels includes 22 brands of hotels, comprised of more than 9,000 hotels worldwide.
SHARES THE AWARD
"This award is not about me. It is about the combined efforts of a great team here at the hotel, our management company CREDE, and most importantly, Westport Capital Partners, the hotel's owners," said Jacobson.
Words accompanying the award came from Chris Urban, director, franchise operations for Wyndham Hotels and Resorts.
"Congratulations on being named the 2020 Ramada GM of the year! I'm so excited for you and this great accomplishment. Your unwavering dedication to your guests, your property, your team, and the Ramada Brand does not go unnoticed."
Urban added, "Thank you for all that you do day-in and day-out, especially during the tough times the industry and your market have had the past 12 months."
That being said, a Scope Salute is certainly in order.
Thomas A. Kvamme is a former resident and long time sports editor and columnist for the Herald. He can be reached at scopend@yahoo.com.