Signups begin for coronavirus aid program
USDA has finalized its rules for distributing $16 billion in coronavirus aid to farmers, and the signups have already begun through local Farm Service Agencies.
The Coronavirus Food Assistance Program is for agricultural producers who have suffered at least a 5 percent price decline from mid-January 2020 to mid-April 2020 or who had losses due to market supply chain disruptions due to COVID-19.
Eligible crops include malting barley, canola, corn, upland cotton, millet, oats, soybeans, sorghum, sunflowers, durum and hard red spring wheat, as well as wool, and livestock including cattle, hogs, and sheep (but lambs and yearlings only).
These payments should begin appearing early to mid-June, but producers will not receive the full amount. There will be two checks. The first will be 80 percent of the eligible payment. The remaining 20 percent will come later in the year.
Payment limits are set at $250,000 per individual.
Participation in Small Business Administration programs does not limit producer eligibility for CFAP, other FSA farm loans or any other USDA programs. Information is available at www.farmers.gov/cfap.
Agribusiness loans
The Bank of North Dakota is offering COVID-19 PACE Recovery (CPR) loans of up to $5 million for businesses of less than 500 employees and up to $10 million for agribusinesses with more than 500 employees. These loans are low-interest loans with six months deferred payment.
The program may be accessed through one's local lender. Requirements include showing a negative economic impact due to COVID-19.
Info about the CPR Program may be found at https://bnd.nd.gov/business/covid-19-pace-recovery-program/. Agriculture producers are not eligible for the CPR Program but have other options such as the BND Ag Disaster Relief Program and the Small Business Administration's Economic Injury Disaster Loan (EIDL) program.
Cost-share available for meat processors
North Dakota has approved $1.3 million for a cost-share program to help meat processing plants in the state upgrade their facilities to meet increased processing demands due to COVID-19.
Eligible improvements include purchasing grinders, stuffers and other processing equipment, as well as rooms or equipment to increase slaughter capacity, such as coolers or freezers.
The program will reimburse plants for a portion of expenses, depending on the number of applications received and approved through the program.
Letters and applications will be mailed to all current North Dakota state-inspected and custom exempt meat processing plants early next week and will be available online at www.nd.gov/ndda. Additional information is available by contacting Bradley Dean, agricultural development specialist, at 701-955-0181 or bdean@nd.gov.
North Dakota brand renewal period to begin later this year
North Dakota requires brands to be renewed every five years, which means, by law, brands will expire Jan. 1, 2021.
Brands that are not renewed within the brand renewal period may not be eligible for renewal due to potential conflicts with other recorded brands. "If a brandowner has moved or if his or her address has changed within the last five years, chances are the address on file at the NDSA is no longer valid," North Dakota Stockmen's Association (NDSA) Brand Recorder Steph Hille said.
It is the brandowner's responsibility to update address information with the brand recording department.
Hille said if your address has changed since 2015, or if you are unsure what address the NDSA has on file, you should contact the NDSA brand recording department at (701) 223-2522 or e-mail brands@ndstockmen.org to ensure that your address is correct.
Large orchard grants available
Applications are now being accepted for grants of between $5,000 to $20,000 for large orchard projects in the state by communities or schools.
Grant funds come from the USDA Specialty Crop Block Grant. The money can be used for plants, trees, planting supplies, soil amendments, irrigation and fencing supplies. Grant funds cannot be used to purchase land, permanent structures or for capital expenditures. Grant funds are for new projects and not the continuation of existing projects.
Application forms for the grants and a publication about starting a community orchard are available on the NDDA website at https://www.nd.gov/ndda/orchardproject. Applications are due by Friday, May 29, 2020.Questions about the grant program or requests for assistance filling out the application should be directed to Jamie Good, local foods marketing specialist at (701) 328-2659 or jgood@nd.gov.
Transportation department updates hours of service
The Department of Transportation's Federal Motor Carrier Safety Administration has released its final rule on hours of service.
The Federal Motor Carrier Safety Administration's new ruling will:
- Extend the maximum duty period allowed under the short-haul exemption to 14 hours and to 150 air miles
- Allow a driver to extend the maximum driving window by up to 2 hours during adverse driving conditions
- Requires a 30-minute break after 8 hours of driving time (instead of on-duty time) and allow on-duty/not driving periods to qualify as breaks
- Modifies the sleeper berth exception to allow drivers to split their required 10 hours off duty into two periods: an 8/2 split and a 7/3 split—with neither period counting against the driver's 14 hour driving window
For more information on the ruling, click HERE.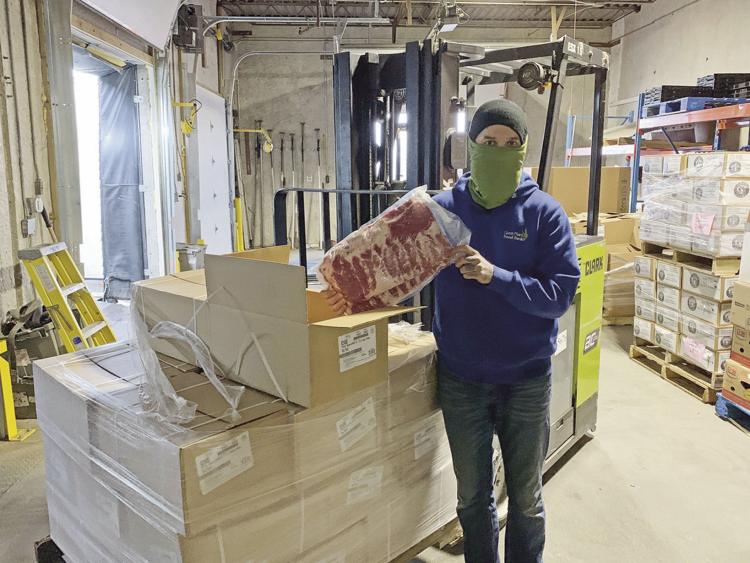 North Dakota beef, pork donated to Great Plains
Since the pandemic began, the Great Plains Food Bank has seen North Dakota's food needs soar. Pantries are reporting a more than 44 percent increase, while the Great Plains Food Bank Mobile Food Pantry distributions are seeing nearly an 80 percent increase in households served.
To help meet that demand, the North Dakota Stockmen's Association and the North Dakota Stockmen's Foundation have teamed up to provide beef for the growing number of families in need as the COVID-19 pandemic persists.
The non-profit organizations have developed the Beef Relief Program, donating $20,000 to the Great Plains Food Bank to purchase beef from North Dakota ranchers to help feed struggling families in the state.
Farmers Union Enterprises (FUE) and the North Dakota Farmers Union (NDFU) have meanwhile teamed up to donate 30,000 pounds of pork ribs to the Great Plains Food Bank (GPFB) in Fargo.
The donation completes a five-state giving spree of 150,000 pounds of pork to food banks in South Dakota, Minnesota, Wisconsin, Montana and North Dakota.
The donated pork ribs came from Redwood Farms, which supplies premium pork products to high-end restaurants in New York, Chicago and other cities across the U.S.
The Great Plains Food Bank supplies more than 200 food pantries, shelters, soup kitchens and charitable feeding programs throughout the state.
It's Emerald Ash Borer Awareness Week
It's that time of year when the North Dakota Department of Agriculture wants to remind you to be on the lookout for an Asian invader, the emerald ash border.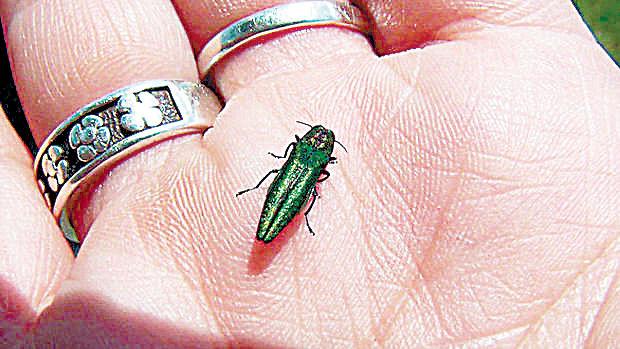 That means hundreds of ribbons will be tied around publicly owned ash trees in more than 25 North Dakota towns and cities. State parks will also participate.
Larvae of the emerald ash borer feed under the bark of ash trees, cutting off water and nutrients, killing the tree within a short time. Millions of ash trees in the United States have already fallen prey to this vociferous pest over the past decade.
EAB is found in 35 states, including neighboring Minnesota and South Dakota. In fact, the latest, closest find was a mere 130 miles from Fargo in Sauk Centre, Minnesota.
North Dakota has 95 million ash trees at risk, and, based on surveys, they are 20 to 80 percent of trees along streets and in city parks.
A primary route of this infestation is imported firewoods from states with emerald ash borer. It is illegal to move uncertified firewood out of areas that are under quarantine for these pests.
The North Dakota Department of Agriculture, the U.S. Department of Agriculture and city foresters have been on the lookout for EAB since 2008 using traps.
These 2-foot-long, three-sided, purple traps are baited with a lure attractive to emerald ash borer. About 400 traps have been placed in cities, state parks and recreation areas.
If you see one of the devices, leave it undisturbed.