A former Williston resident with longstanding ties to the community expressed his appreciation for several local organizations by offering a generous donation.
"All the luck I have had in my life I trace to the wonderful life I had in Williston, North Dakota."
That is how the letter from Ed and Joann Conlin, which arrived by surprise at the Williston Herald office, began. Ed Conlin's family founded Conlin's Furniture in Williston, which has now grown to 16 stores throughout four states. Throughout their time in Williston, the Conlin family has contributed much to the area, which Conlin said is in gratitude for the way Williston has treated his family over the years.
That gratitude, the letter read, is what prompted Conlin to give back yet again, enclosing three $1,000 checks for Williston Public Schools, St. Joseph's Catholic Church, and the Salvation Army.
Conlin, now 97, said one of his fondest memories is of going to school in Williston, and that the high-caliber educators, and the education they provided, are what have helped him and his family become successful in life.
"I've had a lifetime affinity for remembering the wonderful grounding I got and the quality of teachers in Williston," Conlin told the Williston Herald. "They were so personal, and so involved with the students. I remember vividly each and every one of those teachers, even now. Our family has had incredible luck; my children and their children ended up at all the good schools in America and I sort of trace it all back to the solid schooling I had in Williston."
Conlin's brother Clem, who helped found Conlin Furniture in 1937, and his wife Pat were lifelong Williston residents, with Pat being an active member in the community, especially the Mercy Hospital Auxiliary, until her recent passing in January. Conlin said another reason for his donation was to honor them and their commitment to make Williston a better place.
"We're so moved and touched that we're able to get a donation like this from someone who has been a longstanding part of the Williston community." said Williston Public School District 1 Superintendent Dr. Jeff Thake. "We promise these funds will be used appropriately for the betterment of the education of our students."
Conlin shared his memories of growing in Williston, reminiscing on the discovery of oil in the area and meeting the head of Amerada Petroleum, Alfred Jacobsen, when the chairman presented Conlin and wife Joanna a wedding gift in 1953.
"I always took pride in that, because he was the head of a big company and we were certainly impressed that he came to Williston," Conlin recalled.
Conlin lauded his strong faith as a longtime member of the church, which began at St. Joe's, as another reason why Williston holds such fond memories. Conlin recalled his time as an alter boy at the church, as well as his family's honor when father Ed Conlin Sr. was installed in the Knights of St. Gregory.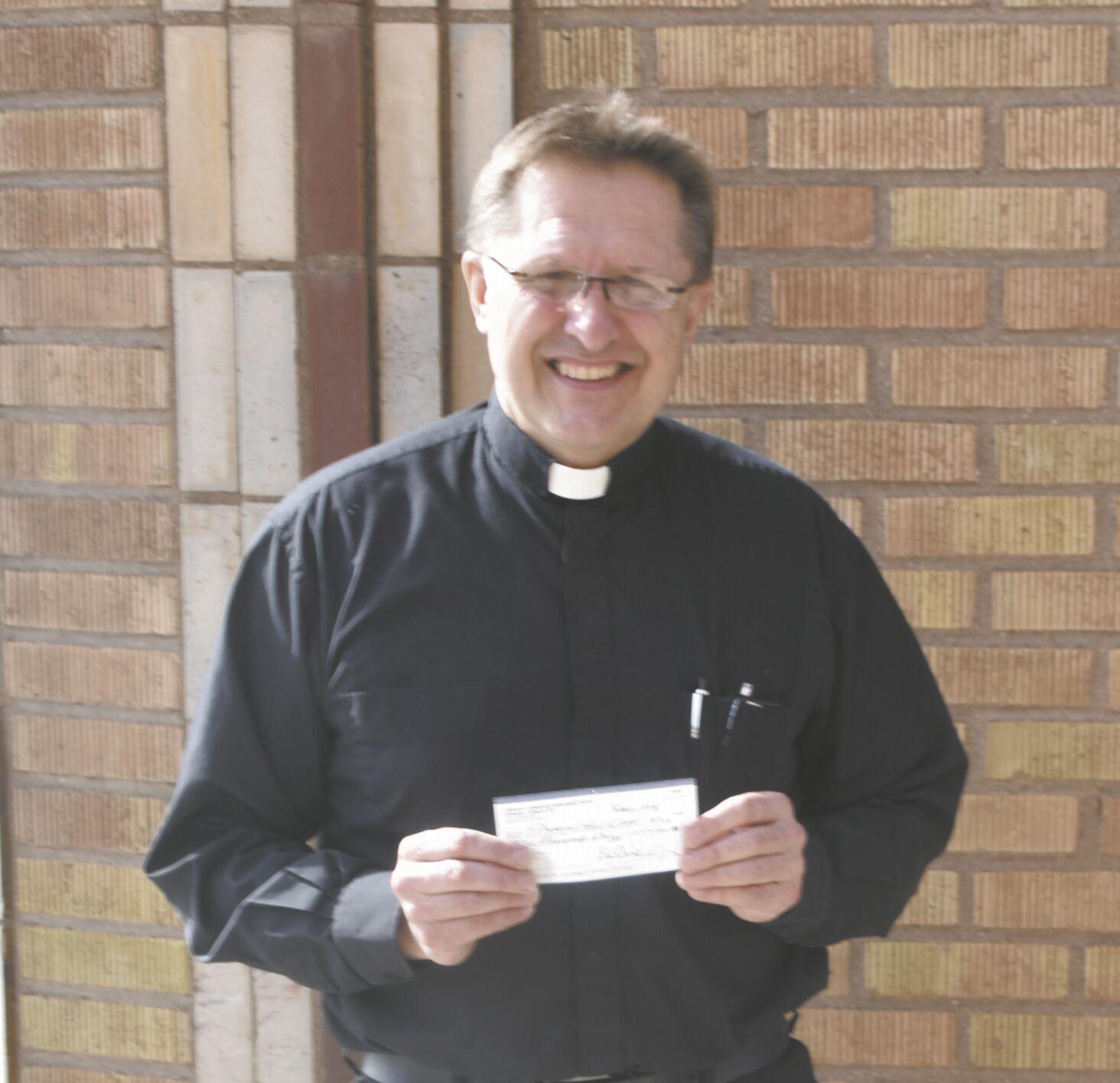 "The Catholic Church was a strong part of my upbringing," he said. "My mother went to mass every day of her life. Eventually, as a prominent Catholic family, my father was honored by being knighted by the Pope, and we had a huge celebration for three days. Our family was very close to the Catholic Church."
"We are so grateful for this support for our church," said the Rev. Russell Kovash of St. Joe's. "The last year has been challenging in many respects, so gifts to our parish like this are always appreciated. It's always nice to hear from people who have had great experiences in Williston. The fruits that have come from Williston are really beautiful to see and hear about, and this is an example of how Williston impacted one family in a positive way."
Nowadays, Conlin spends his days in California with Joann, taking time out to swim and thinking back to his summer days visiting Williston's swimming pool, which he says has helped contribute to his longevity.
"I started in 1963 at the WTA swimming pool, and I've been doing it two or three times a week," he explained. "I think I owe my health to swimming, going all the way back to the Williston swimming pool. We spent every single day there, and I have many memories of that swimming pool."
Conlin also gave a donation to Williston's Salvation Army, thinking back on his time playing with the local band and the importance the organization had in his life. Conlin said his hope is that the donations will do as much good for the organizations as they did for him and his family. The Salvation Army said donations such as these go a long way to helping them provide for those in need.
"We are extremely grateful for this donation," Captain Joseph Irvine of the Salvation Army stated. "Any funds we get, we put a large percentage back into our community, and this will help us continue to provide food support to prevent food insecurity, and also give us the means to be out in the community with out emergency disaster services operations."
Conlin said while he has not been back to Williston in decades, but the memories he has of the people and places that shaped his life will stick with him forever. He and his family plan to return this summer to attend a memorial for Pat Conlin.