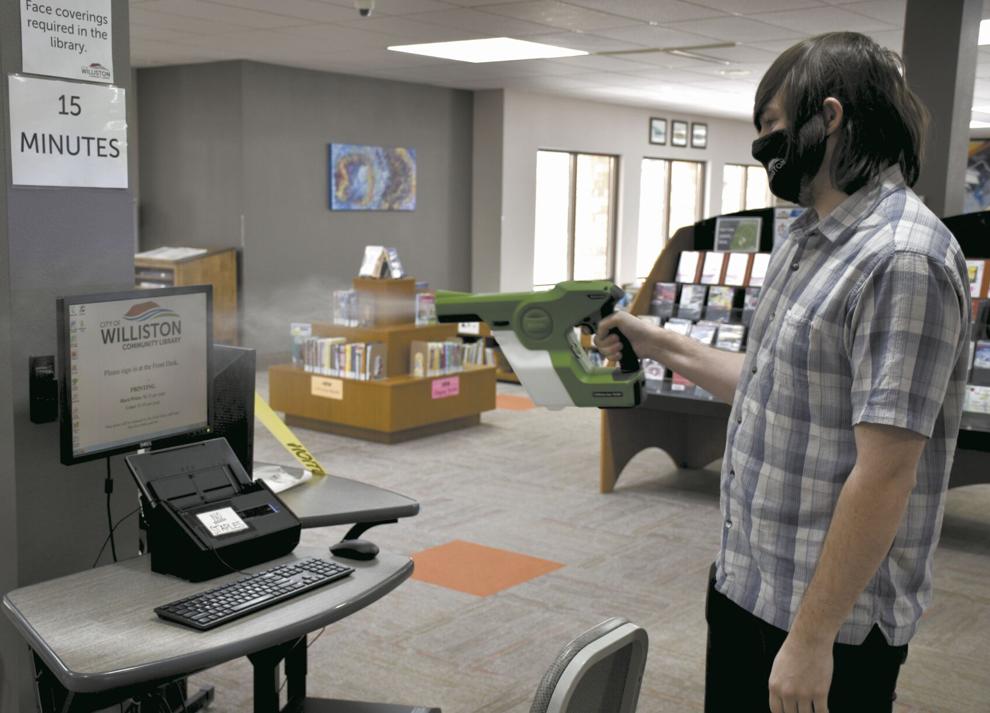 It's not ghosts they're busting between the stacks at the Williston Community Library, it's germs, and it's for your protection.
It's called an Electrostatic Sprayer, and it's adding an extra layer of protection, and convenience, for library patrons and staff. The bright green blaster sprays a solution called VitalOxide, which is an EPA registered disinfectant cleaner, mold killer and odor eliminator. The disinfectant eliminates a wide range of germs and viruses, including COVID-19. The library recently acquired the sprayer, which is similar to ones already being used in other facilities such as Williston Public Works and the Convention and Visitors Bureau.
Library Director Andrea Placher said the sprayer is a new tool that staff can use to keep themselves and patrons safe. The finer mist is able to better cover surfaces, she explained, getting into hard to reach cracks and crevices that other cleaning sprays cannot.
"It's a game changer," Placher told the Williston Herald.
The VitalOxide solution is safe for virtually every surface, will not damage electronics or paper, and is completely food safe. Placher said adding the sprayer to the library's arsenal of germ-fighting weapons not only increases the protection for themselves and the patrons, but makes cleaning more convenient and efficient for the staff.
Previously as visitors used the facility's computers, each station's keyboard was wrapped in plastic wrap, requiring staff to put on gloves, remove the wrap, clean the station and re-wrap the keyboard. Now, a quick mist from the sprayer kills germs within ten seconds, eliminating the need for gloves and plastic wrap altogether.
Additionally, patrons had been required to use a cart to collect any materials they came in contact with so that staff could clean them before placing them back on the shelves. The electrostatic sprayer is so effective that patrons can essentially browse as normal, and the spray will eliminate any germs left behind.
Placher said the sprayer is helping the library on its path to being more open to the public, as they will begin to allow patrons to use the building's study cubicles beginning in March. The solution is safer for staff as well, as there is virtually no smell or harmful chemicals to breathe in. Another sprayer will be purchased for the Bookmobile, Placher added, noting that the spray is a far safer option for use in traveling library's small space.
"It's just a more efficient way for us to operate," she said. "There was of course an investment for this device and the solution, but in the long run, big-picture of things, it's going to be a time-saver, which equals cost savings as well."
Despite the extra protection, Placher said the library will continue requiring patrons to wear a mask as they use the facility. Allowing more patrons into the building does make it more necessary to remain cautious, she said, and with the library being used as registration center for the COVID vaccine, Placher said members of the vulnerable population stop in several times a day.
"We want to make it a safe environment for them to be able to do that," she said.
Stay up-to-date with the Williston Community Library's visitor requirements and COVID protections by visiting www.willistonndlibrary.com or on Facebook at www.facebook.com/WillistonCommunityLibrary.