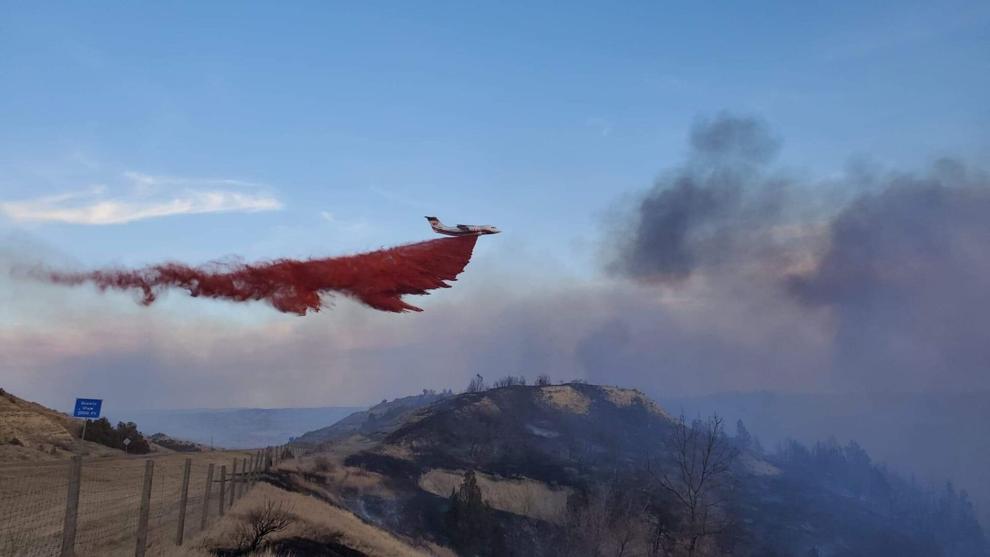 To the casual observer, the scene at Theodore Roosevelt National Park and the McKenzie District of the Little Missouri National Grass land might look like something from a Netflix movie. Clouds of red trail from planes, drifting down toward a smoldering, billowing world of smoke and blackened earth below.
The stuff, referred to by firefighters as "red slurry," is actually a fire retardant. Its use in North Dakota is quite rare, District Ranger for Little Missouri National Grasslands Lucas Graf told the Williston Herald.
"The severity of the fire in terms of size and speed is pretty rare here," he said. "We're in the driest year on record. It's 106 or 112 years I think that we've been tracking the weather here and this is the driest one."
Red slurry is generally a mixture of water, fertilizer, and other chemicals, including iron oxide, which makes it bright red. The color makes it more easily spotted by aerial surveyors, who are tracking the progress of the fire.
The material is generally not dropped on the fire itself. It's dropped in advance of the fire, to halt its march by depriving it of fuel. It's also commonly used to protect trees, homes, and other structures. The fertilizer in it helps trees and vegetation regrow once the fire is over.
The materials used for these retardants are generally considered nontoxic to people, as well as most plants and animals. It is potentially toxic to fish, however, so isn't supposed to be used within 300 feet of water sources.
The retardant is being dropped by two U.S. Forest Service air tankers from South Dakota.
Graf said a tremendous amount of smoke is continuing to well up from the ground in and around the park and the grasslands. The smoke prompted warnings from state environmental officials on Tuesday, urging the public to limit time outdoors, particularly for the elderly, children, and those with respiratory conditions. That issue could get worse this week, with high wind expected.
An estimated 5,000 acres have burned as of Tuesday morning, and the fire had reached 45 percent containment, according to a media release from the North Dakota Forest Service. On Wednesday, that figure was updated to 50 percent containment. The 5,000 acres did not include a roughly 2,000 acre perimeter.
Fire crews have been using back-burning — elimination of vegetation using controlled burns — to make a perimeter around the fire, and keep it boxed up.
"Most of the perimeter of the fire is in pretty good shape," Graf said. "We have some interior burning, which is at this point within the National Park. So that's what we're focusing our resources on rat this point."
That interior burn includes things like juniper trees, which can go up explosively. It also includes coal seams, which can burn for decades.
"We have coal seams from the '99 Halloween fire that are still lit," Graf said. "Those can burn for decades."
They don't usually start fires on their own — but they can. A small coal seam, which was ignited by the Magpie Fire, burnt around a 100 acres or so a few months ago on the border of Billings and McKenzie County, Graf said.
More than 100 people are still involved in fighting the blaze, including firefighters from the U.S. Forest Service, the National Park Service, the U.S. Fish and Wildlife Service. Units have also come from other states, and a helicopter team was expected to arrive Tuesday afternoon.
How well things continue to go will depend in part the behavior of wind in the next few days, Graf said. There will be multiple days with hot spots in the area. Many of the draws will take time to burn out.
So far, there have been no losses of livestock, structures, or human lives as a result of the blaze. The fire is not expected to have long-term negative environmental impacts, though it will create short-term pain, particularly for those who relied on the grasslands for forage.
"It's a big loss in grazable land for them, in what is already a drought year," Graf said. "So this is going to be really tough for some folks."
The grass, meanwhile, should grow back stronger within a couple of years. Fire helps knock back noxious weeds, and helps improve wildlife habitat long term.
The cause of the fire is still under investigation, but authorities have indicated they believe it has a human cause. Graf pointed out with the area so dry, it would not take much for another fire to start, and he urged the public to be cautious.
"I know everyone here in the local community knows, but we're incredibly dry, it's unseasonably warm weather, and we're not looking at precipitation probably for at least a couple of weeks, so folks need to be really careful about the activities they're doing out there."
As a result of the extreme dryness, the USDA Forest Service has expanded its closures of areas affected by the Horse pasture wildfire south of Watford City. The closure now includes the CCC Campground, the Maah Daah Hey Trail from CCC Campground South to National Forest System Road (NFSR) 823, the Long X and Sunset Trail, Summit Campground, and the Summit Overlook.
The closure applies to all National Forest System lands including roads and trails, in the area from the North Boundary of Theodore Roosevelt National Park North Unit, West of Highway 85, continuing West until NFSR 851 and South of 17th Street Northwest. Complete details of the closures along with maps of affected areas have been attached to this story online at willistonherald.com.
The USDA Forest Service has also issued an Emergency Order for Fire and Shooting Restrictions on all National Forest System lands within Billings, Golden Valley, Grant, McKenzie, Sioux, Slope, Ransom and Richland counties, North Dakota and Corson, Perkins, and Ziebach Counties, South Dakota until further notice. Building, maintaining, attending, or using a fire or campfire, smoking, and discharging a firearm, air rifle, or gas gun are prohibited with some exceptions.