USDA-ARS scientist Dave Branson talks about the ins and outs of one of the West's biggest pests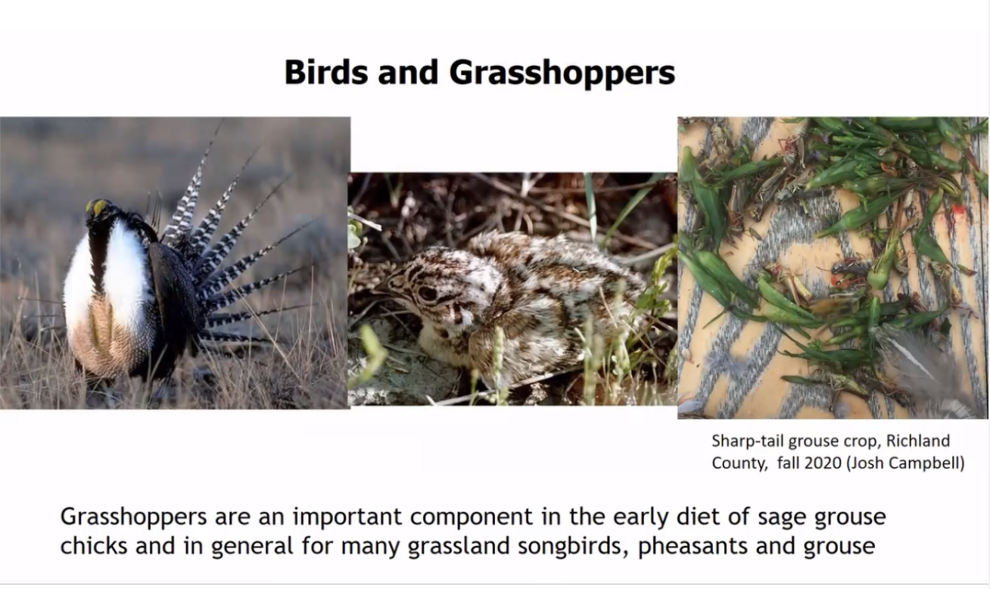 There are typically somewhere between five and 20 different species of grasshoppers present at any given location during a growing season, but not all of those are an economic concern, and getting too zealous with control measures can actually set a rancher up for an even worse go-round the next season, by eliminating natural controls that help keep the worst grasshoppers in check.
Research Entomologist Dr. Dave Branson, with USDA-ARS, talked about the importance of grasshoppers in rangeland ecosystems at the MonDak Ag Days, as well as ways to better understand when to manage the pest, and when it's not going to make economic sense.
"Sometimes I'll get a call saying it's going to be a bad year. I just saw grasshoppers and it's only March," Branson said. "Is this going to be a disaster?"
The answer he gives surprises some. That's because this is not actually the harbinger of disaster some might think.
"A few species hatch in late summer. They overwinter as nymphs or immatures, and they burrow down in cracks in the soil," Branson said. "They have a bit of antifreeze, and they're adults usually by April or May depending on how warm the spring is. But these are never really abundant enough to be an economic concern."
Ranchers might be concerned and even dismayed to see them, Branson said. But it's not time to panic yet.
Spring is, however, an important moment in the lifecycle of the grasshoppers that are of concern.
"This is when we would expect to start seeing little hatchlings hatching out of egg pods that are in the ground," he said.
A lot of mortality can occur at this stage — up to 90 percent, in fact. This is the time to be watching not for adult grasshoppers, but for nymphs.
Focusing on nymphs helps you protect your rangeland before grasshoppers get the chance to make too big an impact on your available forage.
The other thing to realize is that not all grasshoppers are bad. Some of them, like the Russian thistle grasshopper, preferentially eat weeds, like kochia, while others feed birds and spiders, which, in turn, can help keep future populations of grasshoppers in check — assuming you leave enough grasshoppers for them to survive.
That has led to a technique called skip swathing. This is where the rancher would treat every other swath in the rangeland with a bee-friendly control agent that is as specific to the grasshopper species that is problematic as possible.
"In general, grasshoppers are a really important food source for many of the grass.and songbirds we have," Branson said. "They're also an important food source fo pheasants and grouse."
One thing that Branson is working on with John Humphries, a new research scientist at the Sidney USDA-ARS unit, is a better early warning system on when to expect large outbreaks.
This depends on many factors, not all of which are fully understood. Cold temperatures in winter, for example, can be problematic for grasshoppers if there's not very much snow cover, particularly for shallow-laying species.
A cool wet early summer might be bad for them as well — but timing is everything. If they haven't yet hatched, that cool wet summer could mean lots of available forage that year, and lots of time for laying eggs the next year.
Late rains, and warmer than usual temperatures in the Fall could also lead to higher grasshopper populations the following year, depending on what happens to all the eggs laid in winter.
Sometimes, however, even though an outbreak is severe, it may still not be worth treating from an economic standpoint. That happens in cases where the outbreak is going to end rapidly anyway, due to food limitations. Or, if the outbreak has progressed beyond a certain point, most of the damage is already done, and won't make aa difference for next year either.
These are the sorts of decisions Branson is working on with the USDA-ARS lab's new insect pest forecaster, John Humphries.
"He has already been diving into some data on grasshoppers and looking at how some longer-term weather patterns inn particular, El Nino and La Nina, and the Pacific Decadal Oscillations are correlated with grasshopper populations," Branson said. " He's a really sharp buy, so we are really excited about where our ability to predict problems is going to progress over the next while."