The Williston Area Chamber of Commerce held their annual awards on Friday, Feb. 12, recognizing individuals and organizations that have enhanced the Williston community.
This year's ceremony was held virtually, presenting the Chamber Connector, Community Engagement, Champion of Agriculture, Generation Next, E. Ward Koeser Advocacy and Williston Leadership Awards, along with the Distinguished Western Star. In addition, the Chamber's annual auction has become virtual as well, with dozens of items up for bid, including autographed sports memorabilia, vacation packages and gift baskets from local businesses.
Here are the 2021 Chamber Award recipients, along with their nominations.
CHAMBER CONNECTOR AWARD: presented by the Williston Area Chamber of Commerce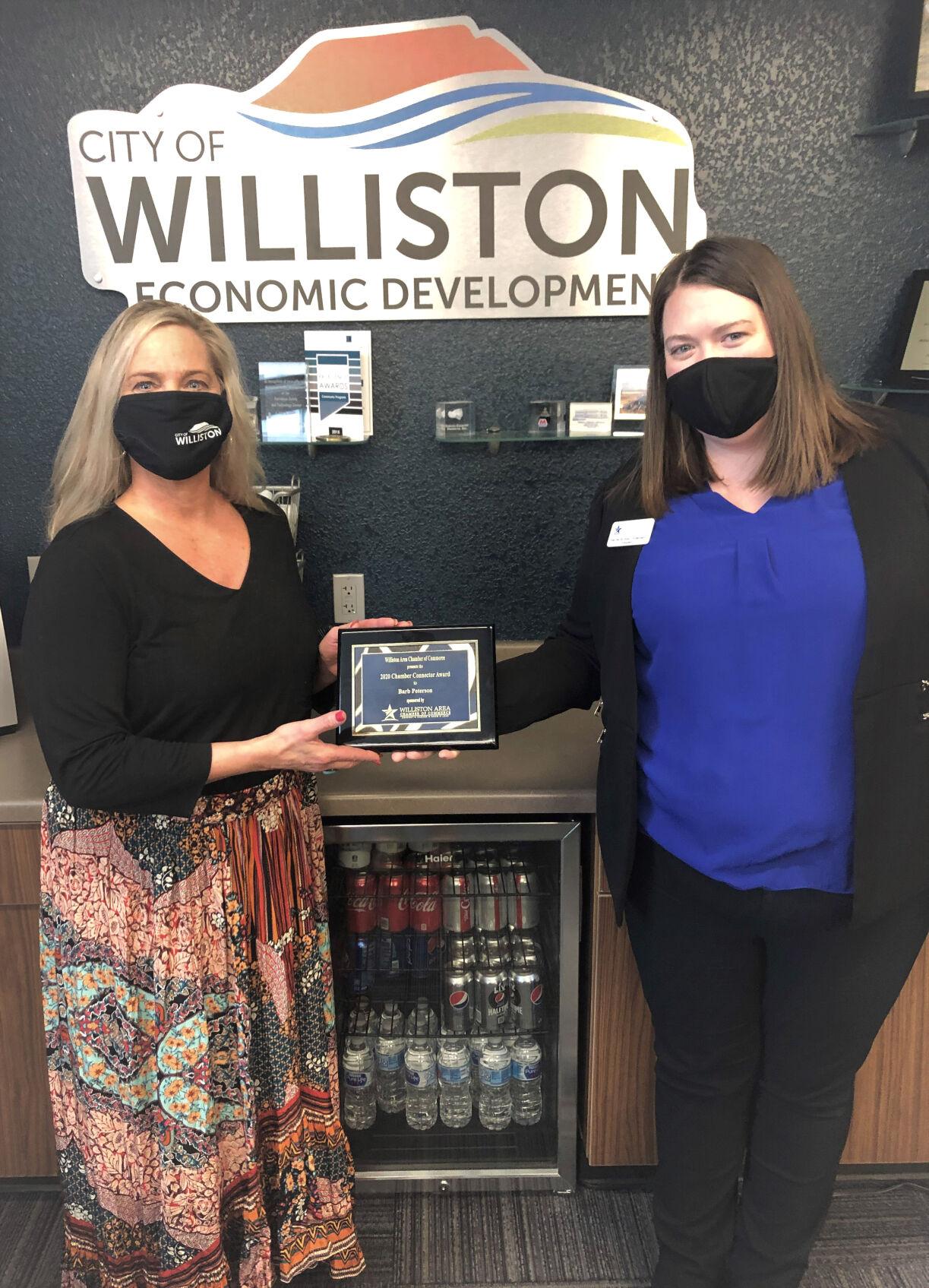 WINNER: Barb Peterson
Barb is an outstanding partner of the Chamber; as an ambassador she is a fixture at Ribbon Cuttings and Events to help us welcome and celebrate our members. She helps to connect the businesses she works with at Economic Development with the Chamber, and she is a great promoter of Chamber Events, Programs, and our Shop Local efforts.
Barb brings positivity, creativity and wonderful guidance to us at the Chamber and we always love getting to work together with Barb and Williston Economic Development!
COMMUNITY ENGAGEMENT AWARD: presented by ONEOK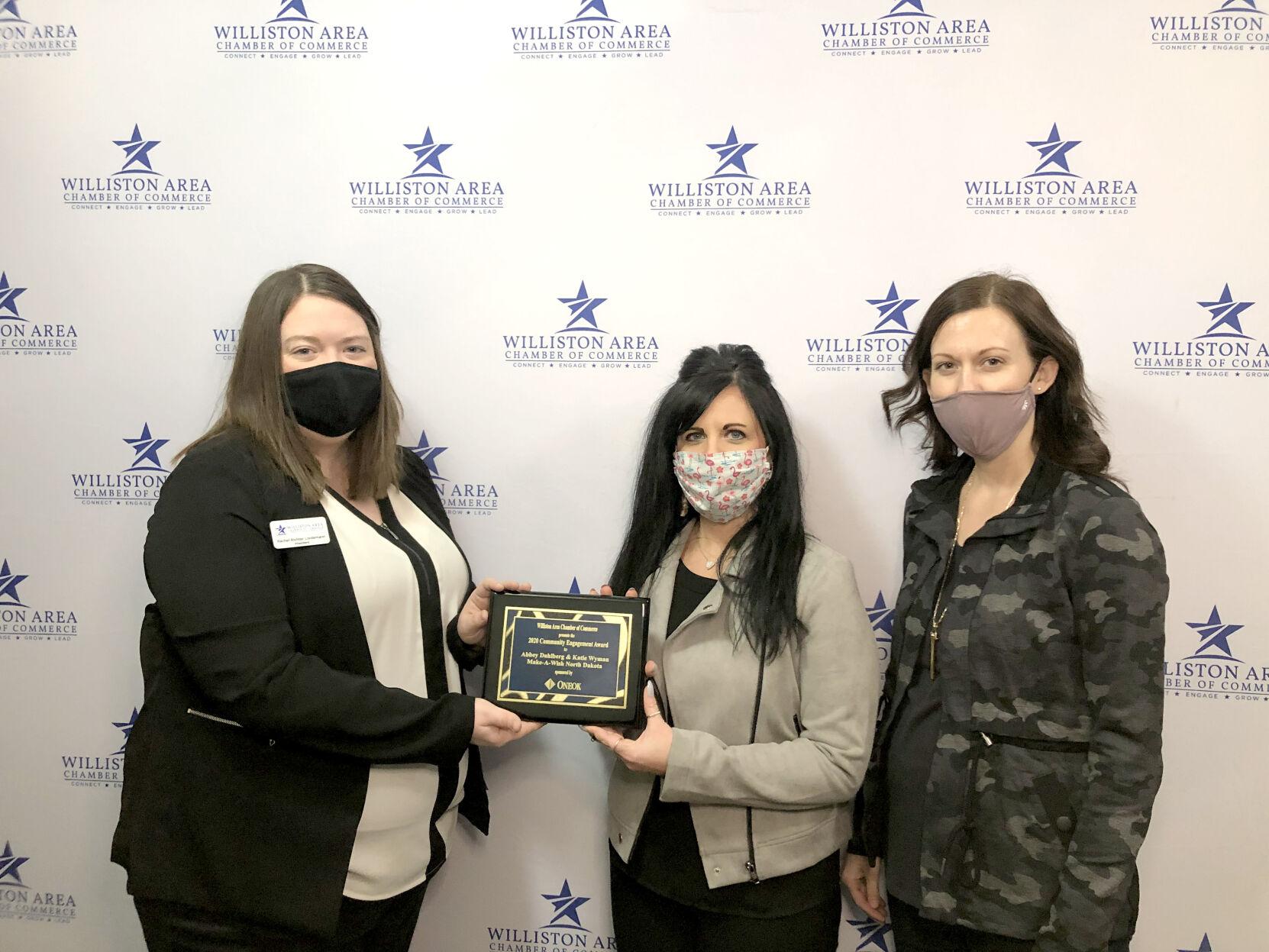 WINNER: Abbey Dahlberg & Katie Wyman (Make-A-Wish)
Beyond their dedication of time and talent, Abbey and Katie have given hope, joy and transformation when wish children and families have needed it most. They have thoughtfully listened to each child to understand what can make the wish personalized and magical.
They have diligently reached out to community partners to financially support each wish. And they've guided the wish family every step of the way with care and understanding. Wishes are not medicine, but research shows that children who receive a wish from Make-A-Wish do better in their long-term health journey than children who do not. Year after year, Abbey and Katie have ensured that eligible Williston-area children can have all the benefits of a wish come true.
Abbey's and Katie's hearts are focused on helping others and helping their community. While navigating their careers and raising their own children, they've remained steadfast in their support for Make-A-Wish North Dakota, and made sure the vision of granting every eligible child's wish is possible in the Williston area.
CHAMPION OF AGRICULTURE: presented by Mountrail-Williams Electric Cooperative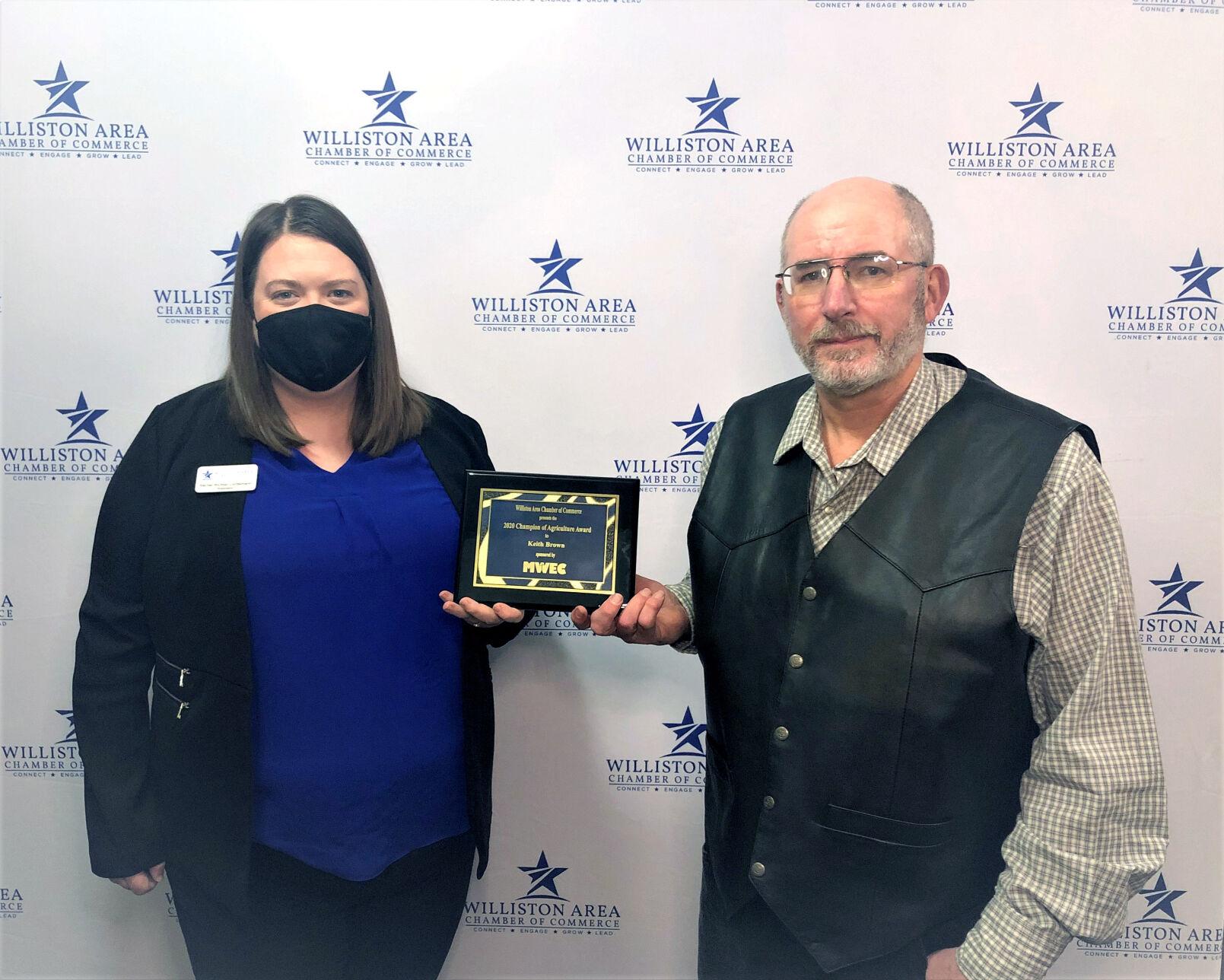 WINNER: Keith Brown (Williams County Soil Conservation District)
Keith helped usher in multiple significant changes to cropping practices in Northwest North Dakota including no-till, continuous cropping, and crop diversification with pulse crops which include dry peas and lentils. Keith made a tremendous impact in Divide, Williams, and surrounding counties by helping producers see the benefits of reducing tillage, planting a cash crop every year, and spreading their financial risk across a bigger portfolio of crops, especially pulse crops. Even after retiring from a 31 year career with NDSU Extension, Keith has continued his work of helping producers improve their natural resource base and building soil health.
Keith has a tremendous positive impact on farmers in Northwestern North Dakota and it is not an understatement to say that without him, cropping practices in this area would likely be very different than they are today. Keith is truly a champion of agriculture and has had a long career of improving the profitability and stewardship of our area farmers.
GENERATION NEXT AWARD: presented by Ackerman Estvold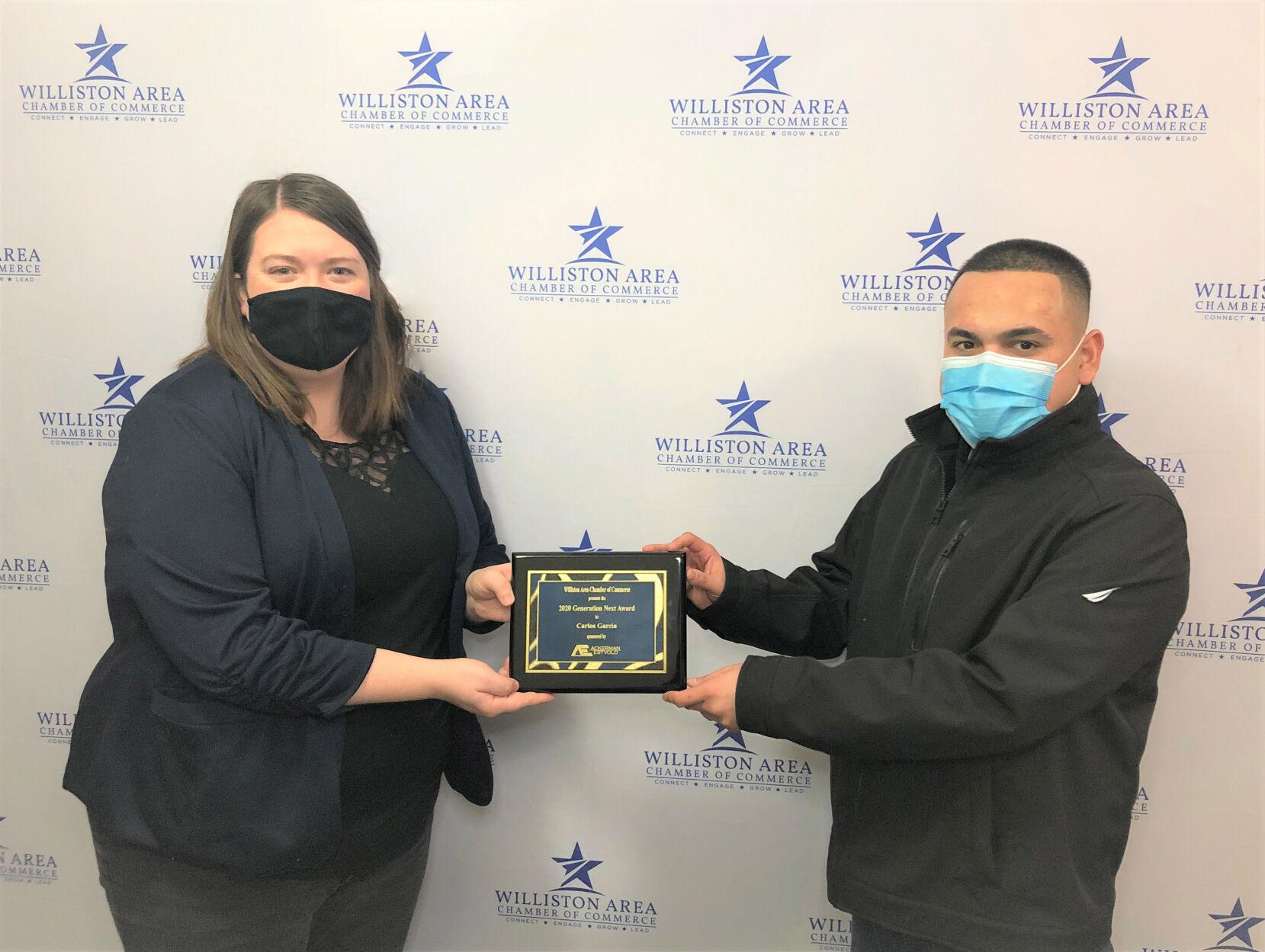 WINNER: Carlos Garcia
Carlos's first impressions are friendly, professional, and a forward-thinker. He is always ready for any challenge. He dedicates himself to looking for work no matter the season! He also likes to physically interact in projects and teach his employees how to work at a faster yet safe-pace. His loyalty and motivation to keep Landscape Elements ND, LLC on full potential is his number one goal. His attitude has helped just as much. Carlos has gained the respect of the company and everyone he meets in our industry. He is always making sure there are ways to help accommodate every client whether it's something big or small."
Carlos is also the type of person you want your company to grow with. He's a great person to be around and truly someone who at a young age, has taken full advantage of his opportunities to make the best version of himself.
E. WARD KOESER ADVOCACY AWARD: presented by American State Bank & Trust Company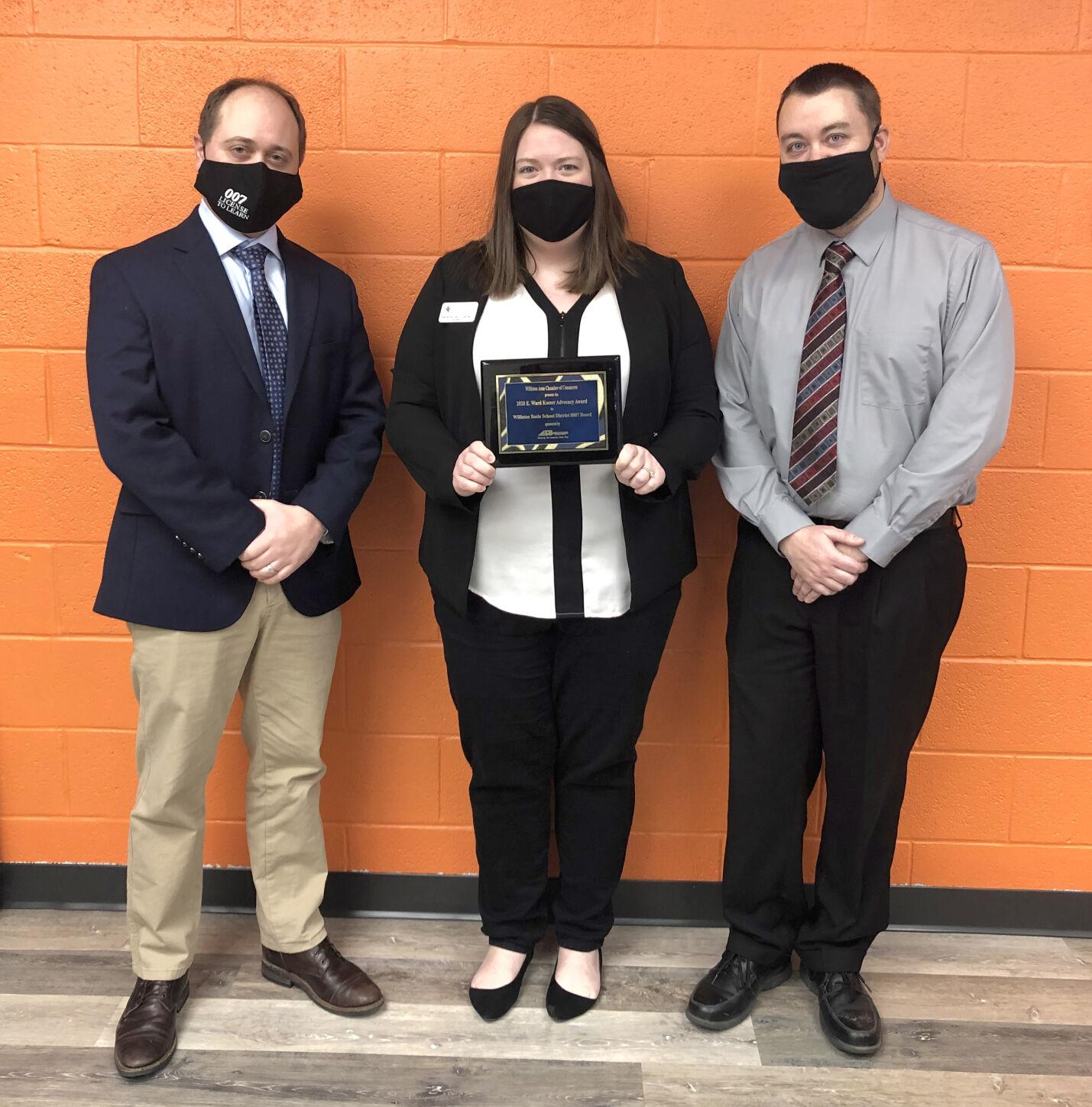 WINNER: Williston Basin School District 007 Board of Directors
Individuals serving on the Williston Public School District No. 1 and Williams County School District No. 8 school boards demonstrated significant leadership as they worked through the legal and governance options available to their respective districts to find solutions to improve our area's education system for the good of students of all ages.
These individuals made good use of the information provided through the Williams County study initiative and actively engaged with community members, parents, students and teachers to dialogue about options, brainstorm solutions and collaborate with neighboring districts. The reorganization into Williston Basin School District No. 007 will help to provide students and teachers in the Williston Area with the best opportunities for success and allow room for continued growth!
Board Members sacrificed significant personal/professional time and energy in service to the public, and we thank them for all of the hard work and collaboration that made this reorganization a possibility.
WILLISTON LEADERSHIP AWARD: presented by Williston Economic Development
WINNER: Eckert Youth Homes
In March, Eckert began providing residential substance use treatment to North Dakota youth ages 14-17. Upon opening, employees were quickly forced to measure the challenges of COVID-19 against the threat of untreated addiction to our youths' well-being. The program staff had spent nearly a year developing was subject to adjustments. In-home activities replaced planned off-site activities, visitations were restricted to computer screens, and house guidelines were re-written for social distancing. It was a reminder that change is uncomfortable.
The feelings experienced as an agency paralleled the feelings of our youth and their families as they seek treatment — change can feel scary; change can be challenging; change may threaten our sense of safety. Nevertheless, the youth continued to be referred and treatment continued to be provided. If there is ever a year for Eckert to be acknowledged in the community for Leadership, it is 2020.
Every staff member at Eckert is considered a frontline employee during this pandemic. They are swiftly completing their duties to support others while also needing to engage in self-care in incredibly intentional ways. Within Eckert's mission statement is the goal of encouraging the growth and development of others. Despite the challenges of 2020, the new treatment program touched the lives of over 40 youth and their families this year. Eckert is also facilitating training opportunities for professionals in our community in the fields of addiction, mental health, and social work – each of which are critically underrepresented in Williston.
Eckert is not only making a positive impact in our community but is also a leader in the State in addiction treatment for youth — most notably is being the premier facility in North Dakota for trauma-informed care. Families travel to Williston from all over North Dakota to receive our treatment. The community of Williston should be proud to have this caliber of service in their community.
DISTINGUISHED WESTERN STAR AWARD: presented by the Williston Area Chamber of Commerce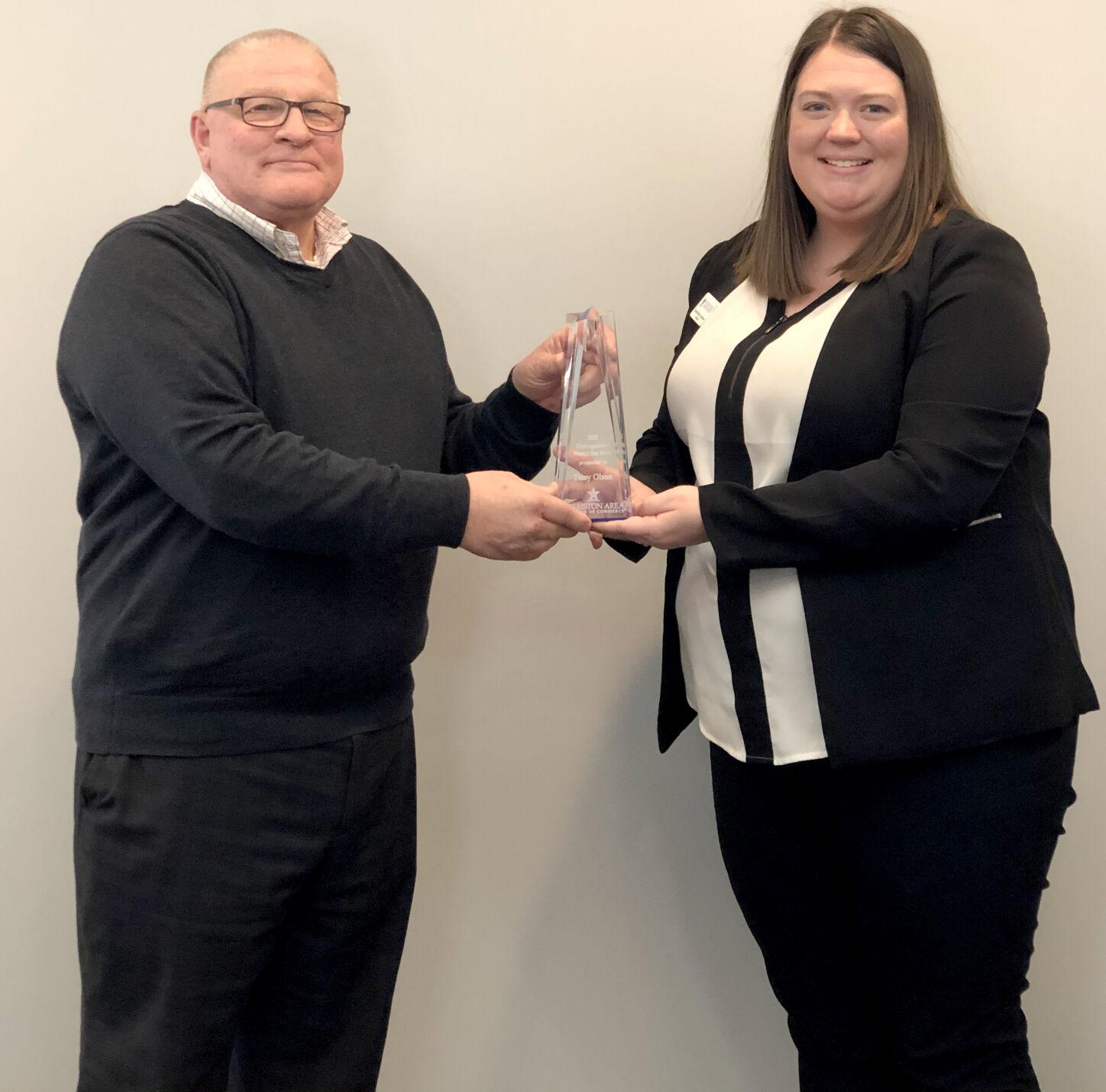 WINNER: Terry Olson
Since 1982, Terry Olson has actively and passionately promoted Williston as a great place to live and work. He has helped recruit hundreds, if not thousands, of students and faculty, staff to UND-Williston, Williston State College and the community of Williston. Terry served as the Head Coach for the Williston State College Teton Men's Basketball Team for 26 years — building the basketball program into a regional and nationally recognized junior college power. Terry also held the position of Athletic Director at WSC before becoming the Executive Director for the Williston State College Foundation and Alumni Association.
His work with WSC and the WSC Foundation has led to lots of travel around the United States. Whether during meetings at the state, regional, or national level or in the many restaurants and gyms around the country, T.O. was always asked about Williston. Some knew of Williston but many did not. Either way, Terry will share with anyone who asks all the reasons he loves Williston.
Terry's personal relationships and connections have also been utilized by the school district, the hospital, and other businesses and organizations to recruit talented families to come back to Williston to work, raise families and make Williston home.
Terry has always praised Williston and our community for its core of great people who care about Williston. As he often share, and always with pride — even when he had a chance to move on in his coaching career, he simply couldn't because Williston is home.