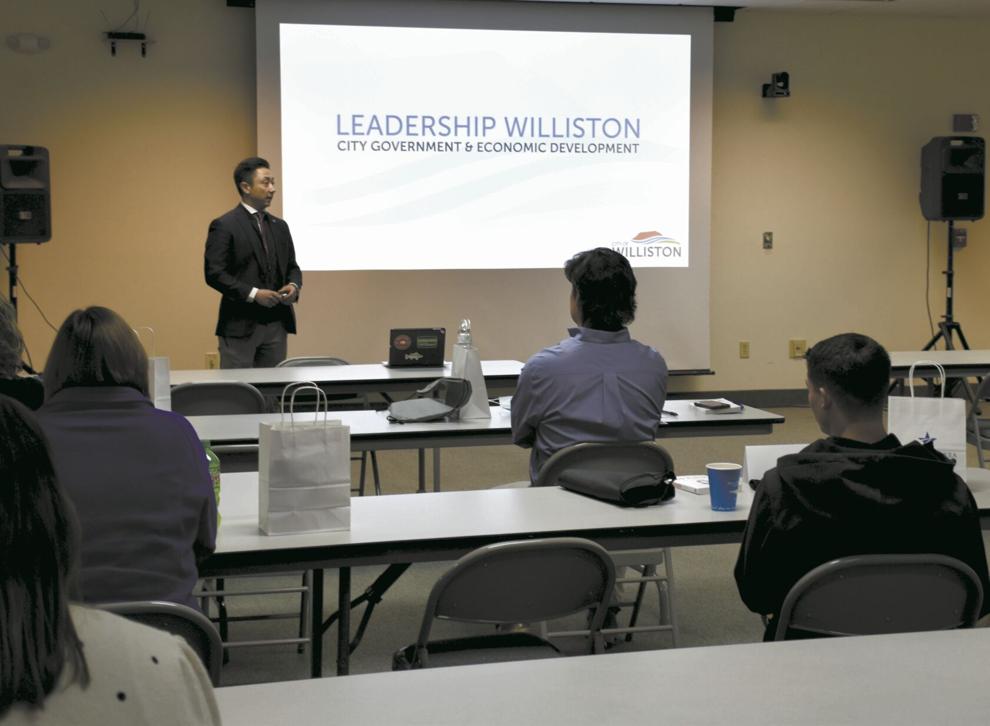 Leadership Williston kicked off its 2021 program this week, bringing in a new group of future leaders and entrepreneurs from the community.
Meeting at the NDSU Research Extension Center, the 13 participants spent the introductory day going over the basics of the program, as well as planting the seeds of their community project, perhaps the most well-known aspect of the Leadership Williston program. Leadership Williston was developed by the Williston Area Chamber of Commerce's Partners in Education and Leadership Committee "To Train and Empower Williston's Future Leaders."
During the eight-month program, participants take part in hands-on workshops led by community members, gaining knowledge on topics such as leadership skills, ethics, public speaking, county and city government, agriculture, law enforcement, tourism and Economic Development.
While taking part in the program, participants are tasked with creating a community enhancement project; something that will be a benefit to the community and help enrich the quality of life for its residents. Many notable projects have come out of the program over the years, including Marketplace for Kids, the Spring Lake Park Dog Park, the Boom Crawl and the Women in Leadership Expo.
After introductions, Leadership Williston Project Liaison Debbie Richter met with the class, discussing some of their project ideas. Richter said hearing the variety of new ideas that come out of the program every year is always something she looks forward to. This year's project ideas run the gamut from youth fitness and investment programs, to athletic facility improvements and film festivals.
"Meeting with the new group of Leadership Williston participants on day one of the program is always exciting," Richter told the Williston Herald. "The Community Enhancement Project ideas they presented were amazing; our community can expect great things from this class. The Chamber has been doing an exceptional job of connecting participants with professionals in the Williston community for years and it always results in positive outcomes for everyone."
The class was given an introduction to City and County government, courtesy of City of Williston Administrator David Tuan, and Williams County Communications and Research Analyst Lindsey Harriman. Participants received a crash course in the intricacies of economic development thanks to Barb Peterson, marketing and business development coordinator for Williston Economic Development. The day rounded out with an introduction to public speaking with Helen Askim, bringing many participants out of their comfort zones and into the spotlight.
Overall, individuals praised the program's first day, and said they looked forward to the next session.
"It went very well, it blew my expectations," participant Jesse Chavez said. "It was very informative, and I'm excited to do my project. It's going to be something to give back to the community, and listening to everyone else's ideas really got my brain rocking."
Some participants have only recently arrived in Williston, and see the program as on opportunity to become closer to the community they've become a part of.
"I'm very new to the area; just moved here in September, so I'm excited to meet people in the community and just get more involved," Kay Atteberry explained. "There's so many different perspectives and good ideas in the class, and it seems like a motivated group of individuals. It's nice to be a part of it, because these people will be the next major stakeholders and leaders in our community."
Chamber of Commerce Membership and Engagement Manager Rochelle Villa takes over the reigns as program coordinator for 2021, and said she is excited for what the new class will bring.
"We have a really great group of participants this year." Villa said. "I think it's going to be a really good year for Leadership Williston. We had a lot of really great project ideas today, and we're excited to see how those pan out over the next few months, and hopefully they can create projects that are sustainable and help to enhance the Williston community."