CHI president: Hospital working to treat COVID patients, deal with staffing shortages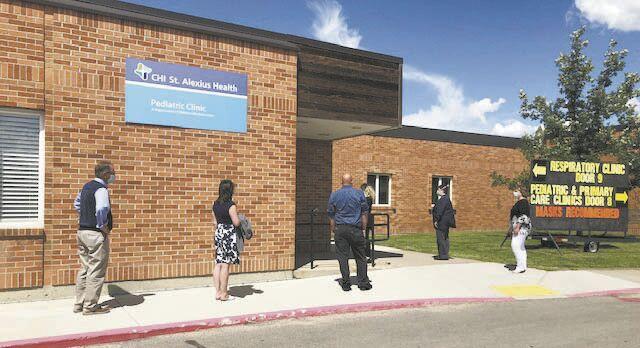 The ICU at CHI St. Alexius Williston has been full for weeks as the COVID-19 infection rate has grown statewide, the Williams County Board of Commissioners heard Tuesday, Nov. 17.
Dan Bjerknes, president of CHI Williston, told the commissioners that like most other hospitals around the state, an influx of COVID patients has stretched staffing to the limit. There are three ICU beds at the facility, but the larger limitation is having people to care for patients.
"Every hospital has beds, what they don't have is capacity," Bjerknes said.
The fact the problem is happening statewide has caused multiple complications. Originally, local hospitals were supposed to stabilize COVID-19 patients and transfer them elsewhere for treatment. As other hospitals have filled up, more COVID-19 patients have had to be treated in Williston.
In many cases, there isn't another bed for them elsewhere.
"To be honest with you guys, there's no place to send those patients," he said. "There's nowhere else for them to go at this point."
That means more work for local staff, both for patients who have COVID-19 and others.
"Our ICU's full right now but we're still treating patients," Bjerknes said. "Sometimes that means our nurses take more patients than our models would suggest."
There hasn't been any choice, and it doesn't seem to be slowing down.
"We continue to ask them to do more and more just simply because of what we have to do," he said.
One goal is to create an outpatient infusion treatment center for COVID-19 patients who need more treatment but aren't ill enough to require hospitalization.
In addition to the hospital, the CHI respiratory clinic has seen dozens of people daily. The average has been 45 patients a day, but on Monday 60 people had visited before the afternoon.
Most of the tests are sent to the state laboratory, but there is also a rapid test machine used to test first responders. The results come back in about 15 minutes, but also need to be followed up on.
Even as CHI deals with staffing challenges, it's working to be more efficient. A test that can detect both Influenza A and B, RSV and COVID-19 is in the works, making diagnosis much quicker and less invasive for patients.
"That will be run in house and we'll be able to get results back very quickly," Bjerknes said.