How are TENORM facilities monitored to ensure public and environmental health and safety?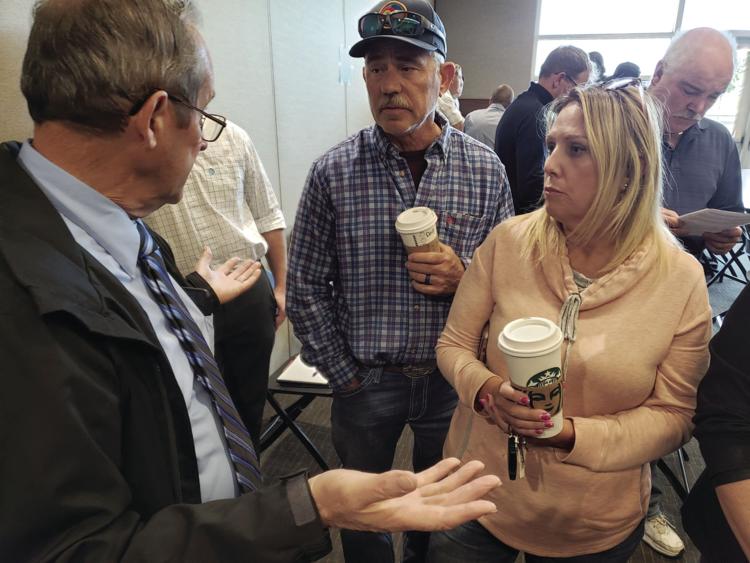 Among the many questions being asked about a proposed TENORM facility in Williams County is what kind of monitoring will be done at the facility to ensure the safety of public and environmental health, and how does that differ from the monitoring that's done at a more conventional solid waste facility?
The Williston Herald posed the question to staff with the Department of Environmental Quality's Division of Waste management. The permitting processes include staff from multiple programs within the Division of Waste Management.
For Solid Waste Management, the program manager is Diana Trussell.
Trussel said the state will require groundwater monitoring for both types of facility, whether they accept TENORM or not. For that, groundwater wells are placed around the perimeter of the site, and samples pulled twice a year.
"Groundwater moves slowly, so twice a year is sufficient," Trussell said.
Typically, the companies hire an independent company to take the groundwater samples, which are among reports that must be submitted to the state for review.
Leachate sampling
Both types of landfills also require leachate sampling, Trussell said. For a regular facility, this is performed on a semi-annual basis in conjunction with the groundwater monitoring. The samples are generally sent off to a certified, third-party laboratory for analysis. The results must be submitted to the state for review.
With the TENORM facility, leachate monitoring will take place more often, on a quarterly basis, according to David Stradinger, who works with the radiation aspect of the permitting process for TENORM facilities.
The TENORM facility will also require quarterly air monitoring. That sample involves a two-week continuous sample.
There must also be a perimeter radiation survey, also on quarterly basis.
"We want them to take these samples as close to an exact quarterly basis as possible," Stradinger said. "There could be a day or two here or there, but that is per the license conditions in the license itself."
TENORM facilities must provide personal meters for their workers, called dosimeters, which monitor each individual's daily radiation exposure. The records pertaining to these must be sent to the state for review.
Each TENORM facility is required to spell out the particulars of its radiation control program in their application. The state reviews that to ensure it's appropriate for the materials they are handling.
Companies accepting TENORM must perform an internal audit at least annually showing its compliance with the radiation control program, and submit that to the state for review.
Among other records the company must provide are those verifying that calibrations have been performed as needed, and that radiation safety training is being performed annually.
Trussell said there are also gate screening criteria for all solid waste landfills, to survey incoming loads. This ensures they are not accepting materials that exceed permitted radioactivity levels.
"They have a survey meter to determine if it is suspect TENORM," she said. "They record that information, and we get monthly reports from them. They are also required to keep the records on site."
The state has its own survey meters, as well, which are taken out occasionally on monthly inspections. This happens on a random, unannounced basis.
The screening is used only to detect whether there is any radiation present that exceeds twice whatever the background levels are at the waste facility. Background levels fluctuate, and are checked daily. The screening tools are calibrated accordingly.
"They're also required to do random waste characterization, which is 1 percent of all loads," Trussell said.
This sample is more specific. It is sent to an independent laboratory for analysis to determine the levels of Radium 226 and Radium 228.
Stormwater must also be monitored by all landfill facilities in general.
For that, the facilities must collect a typical run-off sample at least once annually, and submit the analysis by Jan. 31 of each year. However, if it is a dry year, sometimes facilities are not able to collect the sample, and in that case it would report no discharge.
Stormwater permits
Stormwater permits are written as a general one that covers all applicable facilities in the state. Each facility that requires this permit must file a notice of intent to comply with the requirements that are spelled out in the general permit.
"It says you have to develop a stormwater pollution prevention plan that outlines your best management practices for minimizing pollution in stormwater runoff," explained Dallas Grossman, an environmental engineer with the stormwater program. "You have to describe what good housekeeping practices you will use to maintain a clean and orderly site. How you will reduce dust and keep trash from blowing around."
If the facility has a stormwater pond on site, the plan must spell out how that will be used as an integral part of best management practices for managing stormwater run-off, and the facility will also require a spill response plan.
There must also be regular training so that employees are aware of and following the facility's pollution prevention plan and its site management practices.
If there will be discharges to bodies of water that are listed as impaired, that, too, must be addressed in the facility plan. For stormwater management, facilities are required to do quarterly self-inspections and file the reports with the state for review.
About 10 percent of the state's 400 facilities are randomly inspected each year by the state, as per agreements with the EPA, to test compliance. These are generally unannounced, and may sometimes target a particular facility or area of concern, such as a particular watershed where a problem has arisen.
While no fewer than 10 percent of North Dakota facilities are inspected for stormwater management, the state may inspect more than 10 percent of its facilities, if necessary.