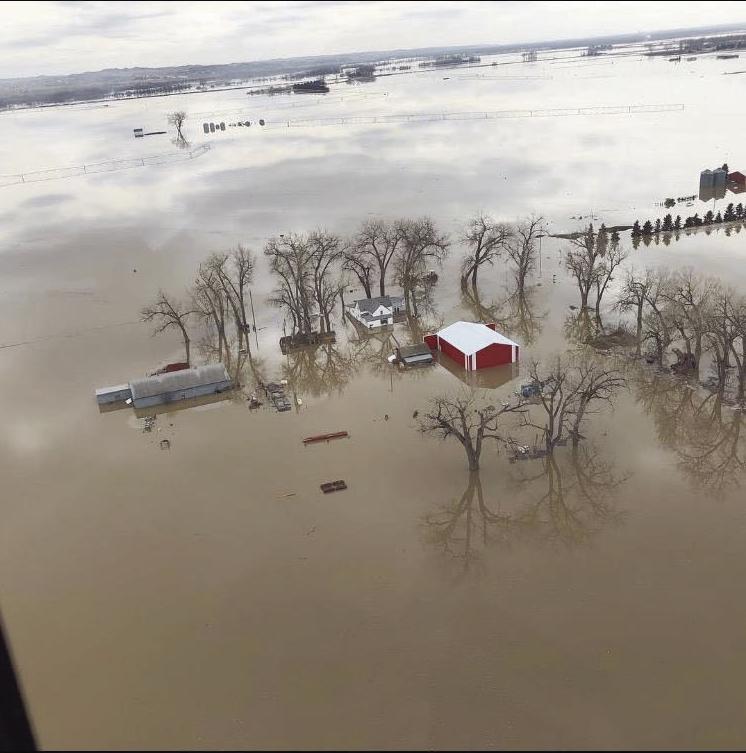 A Presidential disaster declaration requested by Gov. Doug Burgum for flooding in March has been granted, and will help speed public assistance for emergency work and the repair or replacement of disaster-damaged facilities in McKenzie and other counties that were affected.
Burgum made the request last month for flooding from March 21 to April 29 in several counties including McKenzie, which caused an at least an estimated $8.5 million in damage statewide. That figure may be as much as $2 million higher, once assessments are complete.
Flooding occurred across North Dakota in that time frame. Other counties affected included Adams, Barnes, Cass, Dickey, Emmons, Grand Forks, Grant, Hettinger, LaMoure, Logan, McKenzie, Morton, Pembina, Ransom, Richland, Sargent, Steele, Traill and Walsh.
"This presidential disaster declaration will help our local governments and agencies recover from extensive infrastructure damage and make resources available to help communities reduce the long-term risk of future flooding," Burgum said. "We are extremely grateful to the Trump administration for recognizing the significant hardship that North Dakota farmers, homeowners, businesses, local governments and first responders experienced as a result of substantial — and, in some cases, unprecedented — spring flooding."
The Fairview-Cartwright area was among locations where unprecedented flooding occurred in the state. Nearly 110 residents were displaced from their homes for days. Residents say that area has not experienced flooding for 70 years or more.
A survey by Team Rubicon of the area found nine homes completely destroyed, and 12 with major damage. Several others suffered minor damage, for a total of 29.
About 14,400 acres of cropland were also flooded, delaying, and in some cases preventing altogether, spring planting.
McKenzie County Emergency Management Director Karolin Jappe has already been talking with the U.S. Army Corps of Engineers about reducing flood hazards in the Fairview-Cartwright area.
McKenzie County is coming up on its five-year hazard mitigation plan. Jappe plans to stipulate that the plan must include unincorporated areas of the county, such as Arnegard, Cartwright and East Fairview.
FEMA has grants each year that emergency management directors can apply for.
"If (the projects) are in my plan, my chances of approval are greater than if they are not in the plan," she said.
The disaster declaration could make additional funds available for hazard mitigation in the area, Jappe said.
What the disaster declaration won't do is trigger individual assistance from FEMA. The damage assessments for individual homes weren't widespread or high enough.
The nine families who have lost homes are working to rebuild their homes and their lives. Many of them face second mortgages. Some of them had been set to retire debt free, but no more.
The North Dakota legislature has approved low-interest loans of up to $75,000 for families in that area to use toward the cost of rebuilding.
Jappe, meanwhile, has set up a relief fund to try and help the families. It is being managed by Lutheran Social Services. Families int he flood area fill out an application and members of the Unmet Needs Committee, which is comprised of Fairview-Cartwright community members, meet with the families and review the applications to determine how best to divide the donations.
Jappe said fundraising has been good, but not as good as it was for the tornado.