Three petrochemical companies eyeing Bakken, meanwhile new flaring record in June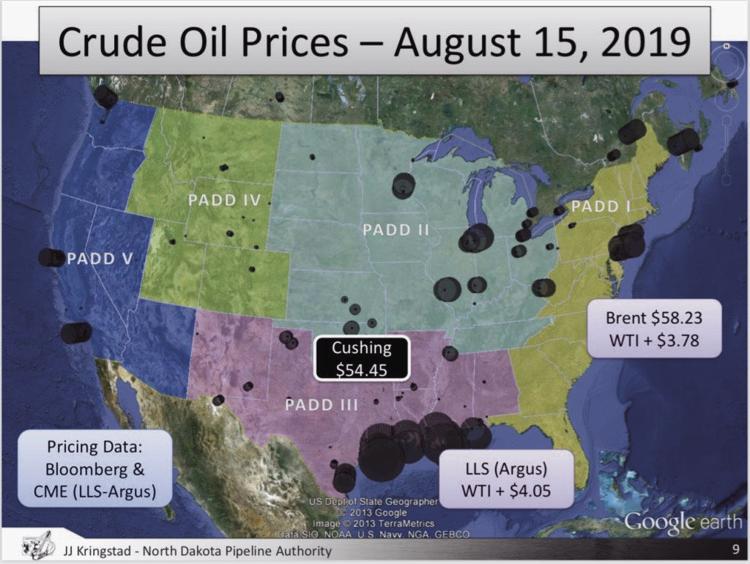 Not just one petrochemical company, but three are interested in North Dakota's gas, according to the state's top oil and gas regulator, Lynn Helms.
Flaring, meanwhile, was worse than ever in the month of June, Helms said. But not just because new production records for oil and gas were set — 1.425 million for oil and 2.877 million cubic feet per day for gas in June. There were several outages at multiple gas plants in the month of June that contributed to the substantial increase in flared gas.
Director of Mineral Resources Lynn Helms was among North Dakota delegates who recently toured the Alberta petrochemical industry. Helms told reporters during his monthly oil and gas production report that he would put the state's chances at a petrochemical plant at 50-50 based on the trip.
"There are at least three petrochemical processors in Alberta that have expressed interest in North Dakota," he said. "So it's not a one-off. It's not just one company that is make or break. There are actually three companies up there, so that increases the confidence level a great deal."
Helms agreed with recent comments by Sen. Rich Wardner, R-Dickinson, about the potential impact of a gas plant for the state.
"It's going to be a really useful impact for North Dakota, over and above flaring reduction," Helms said, describing it as both a true value-added product, and an enormous job-add.
A petrochemical plant would also help tremendously with flaring issues, Helms said, giving the state a way to use its excess gas and NGLs within its own borders.
Helms said the state "really fell down" in terms of meeting gas capture targets during June.
"We dropped to 76 percent capture," he said.
Flaring volumes increased by 155,000 million cubic feet per day to to 687 million per day, which Helms said is the highest total yet.
Helms blamed blamed outages at multiple gas plants and pipeline systems, including the Alliance pipeline.
The Alliance pipeline runs from Saskatchewan. Pipeline Authority Justin Kringstad estimated the line carries about 220 million cubic feet per day of natural gas from the Bakken to Chicago, in addition to natural gas from Canada.
The line was shut down for maintenance and repairs for about nine days. It was only supposed to be shut down for four days.
"Having that down for nine or 10 days put a huge dent (in gas capture)," Helms said. "You can see the Fort Berthold gas capture fell to 62 percent. That's as low as it has ever been."
In addition to Alliance, Oasis Petroleum's Wild Basin gas plant was down for one to two weeks for a planned turnaround, or maintenance period.
Helms said 13 operators are being reviewed for potential production restrictions, but added that most will probably have force majeure variances that cover them.
Things will improve toward the latter part of the year, Helms said.
Little Missouri 4 is now running at 100 million cubic feet per day, and headed for 200 million cubic feet by year's end. The Arrow Bear Den 2 is running at 65 million cubic feet per day, and headed for 100 million at year end.
The Elk Creek pipeline, meanwhile, a key component in the gas capture system for transporting NGLs, is on schedule for the end of the year.
"July looks like another problem month," Helms said. "But August looks better, and then we should climb out of our gas capture woes in September, October and November."