Public's TENORM questions get asked, but most of North Dakota's answers will not come until later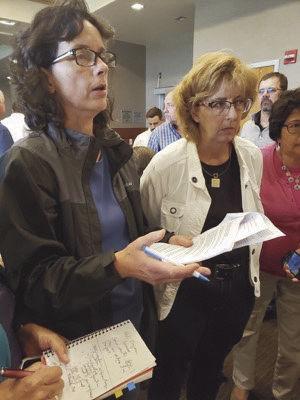 A public hearing Tuesday night in Williston for radioactive and solid waste materials handling permits for Secure Energy Services, seeking to open the state's first TENORM waste facility, was long on questions, but not as long on answers as participants wished.
There was first a short presentation explaining a little about the proceedings and the methods for submitting public comments. Then an open house commenced — even though several participants told state officials vehemently that they did not want to follow that format.
People would benefit from hearing the answers to all the questions being asked, Julie Keller suggested.
She, and several members of a group sitting with her, wanted state officials to take questions from the audience at large, and answer them with the microphone, for everyone in the room at once.
State officials, however, would not change the format, in which various officials from different programs in the Department of Environmental Quality's Division of Water Management were placed at locations around the room, so people could ask their questions one at a time, individually.
That led Keller and others to pair off in small groups in which they took notes, with plans to share information later.
Keller's group headed for the radiation program, which included Dave Stradinger and Dale Patrick.
Among the concerns raised first was the compliance record of Secure Energy. Keller had a printout of the company's application materials, in which she said several violations were listed, including one where some radioactive materials were found.
There was an instance, Stradinger acknowledged, where some TENORM was identified through the state's inspection program. He said the company responded appropriately to the issue.
The material was removed, and that removal was verified.
Just how much radiation was involved, another member of Keller's group wanted to know.
"It was minimal," Stradinger told them, though he declined to give an exact amount.
When the group expressed disbelief that Stradinger didn't know this number, an unidentified member of the program staff suggested it was probably about 13 picocuries per gram.
The presence of TENORM at the 13-Mile facility before it was legally allowed also raised several questions, members of the group suggested. How would there be any certainty in the future that things will be handled the way they are supposed to be, especially strict adherence to the 50 picocuries per gram limit?
Stradinger said the company has since changed its screening procedures for incoming loads. It now screens all loads, and any that exceed twice background levels are immediately rejected.
As far as in the future, any companies sending loads to a TENORM facility must first certify that the level of radiation in the truckload is below the legal limit. That sampling would happen before the trucks are loaded and sent to the TENORM facility.
Any loads that do not include the proper certification materials that certify the load's radioactive levels will be rejected outright.
There were also questions about the sampling methods used to determine if a truckload is over the limit. Individuals were concerned that one end of the load might not show it was hot, even though the other end is. Could companies hide the radioactivity and escape detection that way?
Stradinger said companies certifying the radioactivity of these loads would be required to use legitimate sampling methods on every load of TENORM waste material. That includes taking what's called a composite sample, built by taking a portion from several random locations in the load, then mixing the result up before taking a final sample for testing.
There were also questions about runoff, and concerns about the Secure Energy facility's proximity to several different bodies of water, including a waterline that sends water to Williston.
Stradinger said runoff issues would have been something looked at when the original facility was sited, and that the facility would have been designed not to allow any runoff.
Stradinger was also asked pointedly if he would want to live next door to the facility himself.
"I'd feel safe," Stradinger said.
Pressed to move to Williston immediately, Stradinger said he would not move to Williston because his children need medical services that would not be available here, and because there are other members of his family who would be involved in making such a decision.
After the open house portion concluded, the participants had a chance to record comments for or against the facility for the record.
Many citizens, clearly against the permits being issued, put their objections and their questions into the record. The questions were not answered during the formal proceedings, though Chuck Hyatt, director of the Division of Waste Management, promised several times that all the questions would eventually be answered in writing.
The only person who put a comment on the record clearly in favor of the permit was Kurt Rhea, who is with the company that will manage Secure Energy's radiation control program.
He talked about radiation in general, explaining that it is everywhere in the environment, from food to water and sunshine.
"Unless the batteries are low or the meter is broken, it never reads zero," he said.
Things like bananas and brazil nuts have radiation, Rhea said.
"Smokers receive 125 chest x-rays just by smoking one pack a day," he said.
Distance is an important factor with the type of radiation at the facility, Rhea added.
The type of radiation that it is doesn't travel far, and is blocked by skin. In order to be affected by it, an individual would need to ingest or inhale it.
"By the time you are about 15 yards away from the actual closed cell there is no incremental dose," Rhea said. "You will have the same background as in your backyard."
Another point, he said, is that the facility will only accept 25,000 tons per year, which is a small percentage of the overall material going into the landfill.
"Only 10 percent of the waste will be TENORM," he said. There is a "magnificent dilution factor."
"(All those reasons) are how I know for a fact that the levels are going to be incredibly low and someday, down the road, that landfill will be an incredible sliding hill," Rhea said.
County Commissioner Beau Anderson was among the general public with a comment for the record.
Anderson said that while he doesn't live near this particular site, he does live near a solid waste landfill that was recently permitted and is adjacent to his land.
"If this goes through," Anderson said, "I will get to deal with this in a short amount of time."
Anderson is a cattle rancher, and indicated his concern is for the land and for future generations.
"An article yesterday that talked about a gal from the state's (department of environmental quality) said that they are looking for comments based on science and fact. So I'm here to ask the state is your science accurate, and is it based on facts?"
Anderson said while not many folks live next to him, the steaks he produces at his ranch could land anywhere, including the governor's table or Lynn Helms' plate.
"So I call on the state to have it right," he said. "If this is not right, it's going to affect generations."