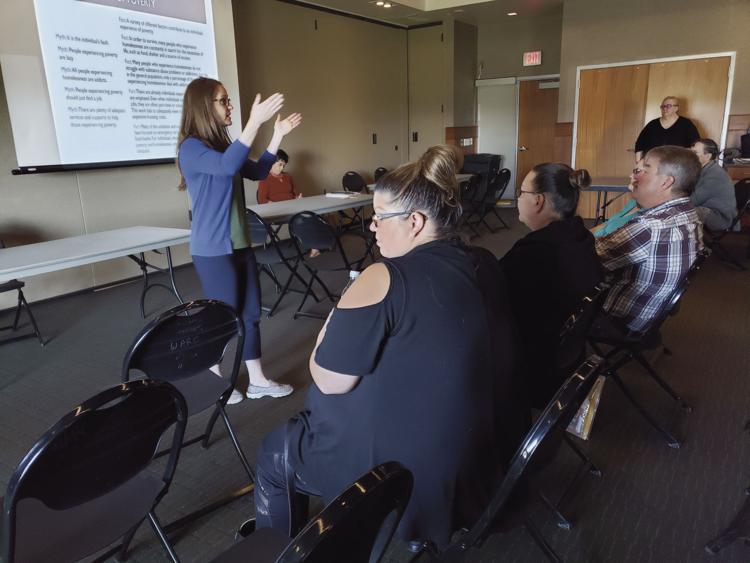 Andrea Olson is reluctant these days to talk about what she does with just anyone. There's intolerance and a lot of bad rhetoric when it comes to helping those living in poverty.
But, in Williston on Tuesday, Aug. 20, Olson was speaking at length about the work she does and the people who are helped by programs the Community Action Partnership of North Dakota offers to those who need a helping hand.
Olson was in Williston to lead a seminar that might might seem like an unusual way to voluntarily spend one's time. The participants were all there to put on the shoes of a person in poverty, and walk a proverbial mile. Or in this case month. Each experienced a life in poverty, through four simulated 15-minute "weeks."
Participant were each given a real-life scenario for their month.
An elderly woman who is a widow.
A family where the primary breadwinner just lost his or her job.
Or a family where the primary breadwinner has died.
Grandparent unexpectedly raising grandchildren.
A family that had been self-sufficient. Until medical catastrophe struck.
Tables around the room were manned by volunteers who played officials at schools and resource agencies, tellers in grocery store lines — in short the gauntlet of everyday experiences a person in poverty might face.
It was frustrating and eye-opening.
Madison Davis, with Community Auctions, said people coming into her office sometimes seem "snappy, almost ungrateful."
She's done a poverty simulation before, and wanted others to have the experience as well.
"Going through this, and being on this side of it, you can see it is a lot to process," she said. "And you are thinking about a million things. It is stressful."
When she went through a previous poverty simulation, Davis admitted dropping the "f-word" a few times.
"This is ridiculous, how do people do this?" she recalled saying at the time.
"And this is a game," she added. "It's fake, not real. To feel all those things that I was feeling — I cannot imagine actually being in it."
Olson, meanwhile, recalled an occasion at a park with her children, where she was hesitant to talk about her career with a fellow parent she'd just met.
But she was pleasantly surprised when he understood.
In fact, he confided, he'd been through a similar circumstance once.
He is a veteran who served in Afghanistan. While he was away, his wife was in medical school in Boston. She had an accident one day, however, and slipped in the kitchen, cracking her head on their kitchen island.
In that instant, the family's entire life changed.
Not only would his wife never be able to return to school due to the injury, but the family suddenly accrued substantial and overwhelming medical debts.
"It ruined their credit," Olson said he told her. "This is why we went to the townhouse over here for $1,500 a month. Because we will never be able to buy a house for $1,500 a month."
Olson doesn't tell the story to make anyone feel bad, she added, but to just be mindful, and to realize that you don't really know the circumstances that a given family is facing.
'Crashing down'
"They were doing everything you are supposed to do," she said. "And in an instant, it came crashing down. They were the unfortunate recipients of a catastrophic medical event that destroyed them. Physically and financially."
Liz Bustad, meanwhile, works with the WIC program through Upper Missouri Health District.
Many of the families she works with are employed full-time. But the wages from the jobs aren't high enough to make ends meet. Especially in Williston.
But Williston needs service people, she said.
The salaries might not be high enough to keep service workers from qualifying for assistance, but it doesn't mean they are lazy or have poor character.
"They want the best for their kids, just like any of us do," she said. "And most of them are very hard working, too. I think sometimes we kind of tend to think these people are out to cheat everyone. But no, that is a very, very small minority that we see."
That's just one of the many misconceptions, Olson said, that she hopes to dispel through the poverty simulation.
"Welfare fraud is actually less than 3 percent," Olson said. "And there is an abundance of evidence reporting that. For example, social services is actually able to verify income with the IRS. So if there is a discrepancy, that is going to be noted. I don't think people understand how thorough income verification really is."
People receiving services must provide pay stubs, tax returns, disability statements, child support statements — and not just one and done. These sources are re-verified, sometimes as often as every three months.
"We want to think it's as simple as 'just get a job,'" Olson added. "But in reality, it's not that simple. In my entire professional career, I've never worked with someone who was excited about having to ask for help. I've never worked with anyone who is eager to be quote unquote on the system."