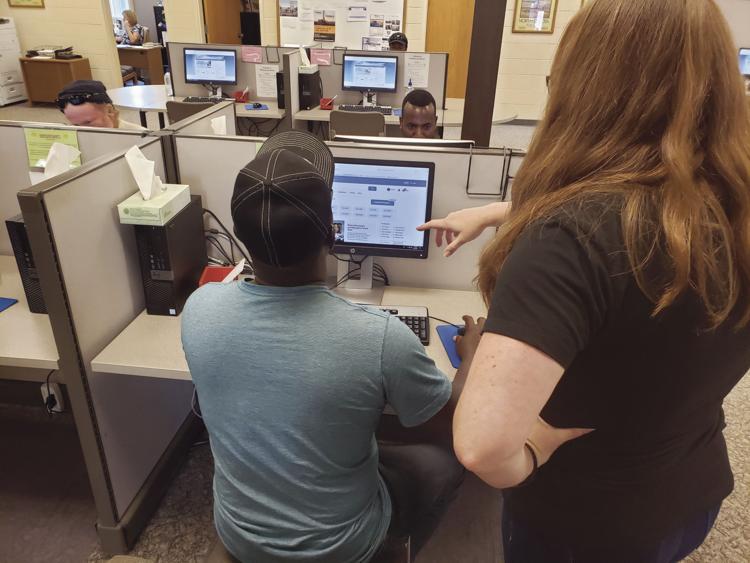 The Williston Job ServicesND office has been a little bit busier lately. That's not just because of the Whiting Oil and Gas layoff, but those former employees — some of them long-time and thus highly skilled oilfield workers — have been among those served.
Williston Job ServicesND Office Manager Paula Hickel said her office is fielding a number of questions in the wake of the layoff.
First from the community.
"We always get this reaction of everything is bombing," Hickel said. "If it is a big company, people wonder if it is an indication that the whole bottom is falling out of the oilfield. But that's not accurate."
Hickel said there have probably been around 50 companies with layoffs of one size or another, which she characterized as about normal for the Oil Patch. Companies are coming and going, trying new things, and adjusting to the demand of the marketplace all the time.
Whiting's layoff was just the first this year that was large enough to trigger required notices, and make headlines.
Whiting laid off 254 employees on Wednesday, which is 33 percent of The Bakken-focused company's workforce. Among factors contributing to the layoffs, company officials cited repaying debts and missed production targets, partly due to lack of gas processing and NGLs takeaway in the McKenzie County area.
About 100 of the lost positions are in North Dakota, Hickel said, and they are somewhat evenly split between Watford City, Williston, and New Town. About 40 percent were lease operators.
Hickel said the workers themselves have a lot of questions right now as well. That has prompted a workshop for them and anyone else going through a layoff.
The workshop is not just limited to the individual who has been laid off, either. Family members or other people supporting the individual may also attend on their behalf.
"This can be very overwhelming," Hickel said. "It's all presented to you in a bunch of information all at once. It's information overload, particularly if you have never done it before and you don't realize the time sensitive nature of all the requirements or where to look."
The workshops will provide more, however, than just assistance with the unemployment process. It will be a wholistic approach, ranging from unemployment to re-employment, and all parts in between, including tips for handling the emotional roller coaster that comes with losing a job.
The first workshop is 10 a.m. Wednesday, Aug. 7 at the Roughrider Center in Watford City. The second is at Job Service ND in Williston, Thursday, Aug. 8.
"We do know that there were severance packages," Hickel said.
That helps cut down the crisis level while seeking something new and suitable, Hickel said, but it also has people wondering if they can or should apply for unemployment at all.
The answer, Hickel said, is that it depends on how the severance was paid out.
"Your severance may or may not affect unemployment benefits," she said. "You don't really know unless you file."
The other thing Hickel has heard a lot from oilfield workers is that they don't want "handouts."
"But it's not a handout," Hickel said. "It is a benefit that has been paid for. It is insurance, no different than if you crashed you vehicle. It's not a handout to fix your car."
The benefit has been paid by employers on behalf of employees and is only triggered when employees have been let go through no fault of their own.
While the benefit is much smaller than an oilfield salary, Hickel acknowledged, it can help bridge the gap until a new job begins.
With the semi-annual job fair around the corner in September, Hickel feels that the layoff makes the event even more vital to both job seekers and employers.
Hickel also said she is expecting the job fair to be bigger than ever this year. Each of the Job ServicesND offices has recently put up a Facebook page, Hickel said, and a recent job fair post sent from the Williston page has reached 7,000 people and had 22 shares.
"We are really working to increase awareness about the job fair as far as who is going to be there, as well as increase all the buzz about it," Hickel said.